ACCIONA and Surfing Australia built on their growing partnership by hosting their fourth 'Engineering Confidence' Young Women's Workshop at Palm Beach Currumbin High School in Queensland last week.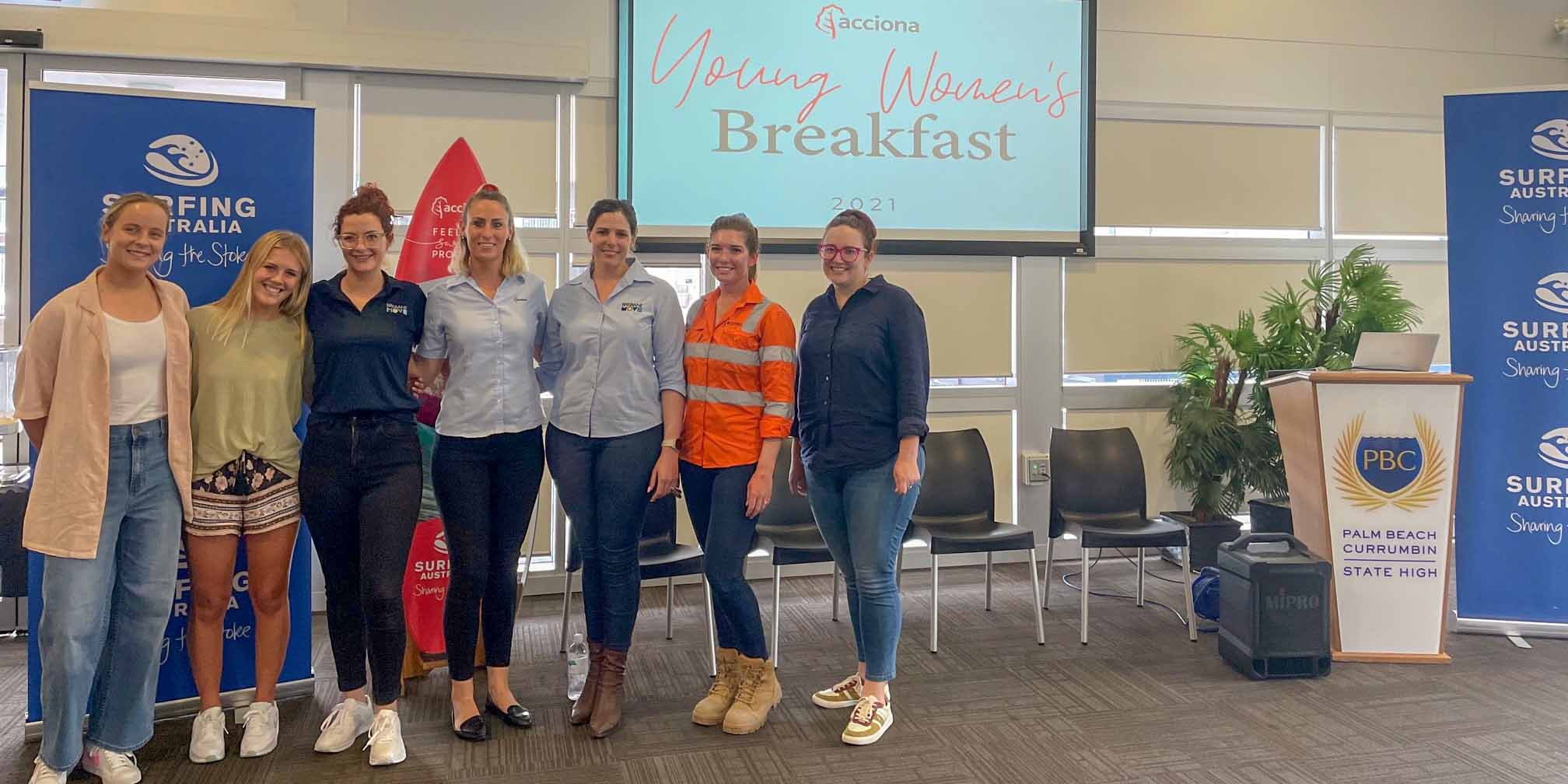 The event, hosted by Channel 7's Jess Skarratt, was designed not only to build confidence in young women, but also to kickstart thoughts and discussions about real career opportunities in the construction industry.
There were plenty of questions and enthusiastic discussion after the room heard from the four-person panel including World Tour Surfer and ACCIONA Ambassador Isabella Nichols, Qualifying Series Surfer and Murmur Mag founder Tru Starling, and two of ACCIONA's rising stars in Katelyn Hoad and Sarah Deegan.
You can watch a wrap of the event here. Appearing in the video are Isabella Nichols, Tru Starling and Katelyn Hoad.
After a video introduced ACCIONA to the students as a global leader in sustainable solutions for infrastructure, renewable energy and water, we took the opportunity to explain that sustainability doesn't just mean the environment: it applies to people too. That's why our partnership with Surfing Australia aims to encourage and attract young women and people from diverse backgrounds into careers with us: to help make our business more sustainable. The panel pointed out that with or without a STEM background, you can still work for a company that makes a difference and invests in the planet.
Katelyn, a Project Engineer on Brisbane Metro, reflected on her upbringing in regional NSW during the drought years and how this ignited an interest in resource management and environmental engineering. Katelyn also spoke to the students about the wide variety of projects and work locations available in construction.
"As a Project Engineer in the construction industry, the best thing is you can take a concept design and transform it into reality, ultimately changing the way people live their lives in a sustainable manner," said Katelyn.
Sarah, a Site Engineer on Coombabah Sewerage Treatment Plant, spoke about her pathway into engineering from a high school only a few suburbs away, via the Griffith Engineering Early Pathways program – a program available to the students in the audience. Via this program, Sarah was able to undertake early-entry coursework for her university degree while still in high school.
Isabella Nichols said: "The one thing I'd say to young girls wanting to get into a career in STEM is to ask questions, as there are so many different pathways you can go down. Finding the right pathway is the most important thing, and it increases the chances of an enjoyable and successful career."
Following the discussion, the panellists and other ACCIONA staff joined the students in a hands-on spaghetti challenge – where students had to build the tallest structure possible out of 20 sticks of dry spaghetti and a metre of string and tape, with the tower having to support a marshmallow. There were many young constructors in the group, opting for strong foundations and tensioned string to build the structures – including one that reached the ceiling! It was a stimulating task that drove innovative thinking, promoted a design mindset, tested the basics of engineering and encouraged collaboration and teamwork.
The feedback from the students and school was extremely positive, and we look forward to our next workshop in 2022.