The Ballarat Line Upgrade is now complete, enabling 135 extra services along the line, including trains every 20 minutes during the peaks and 40 minutes between the peaks, to service the growing communities in the region.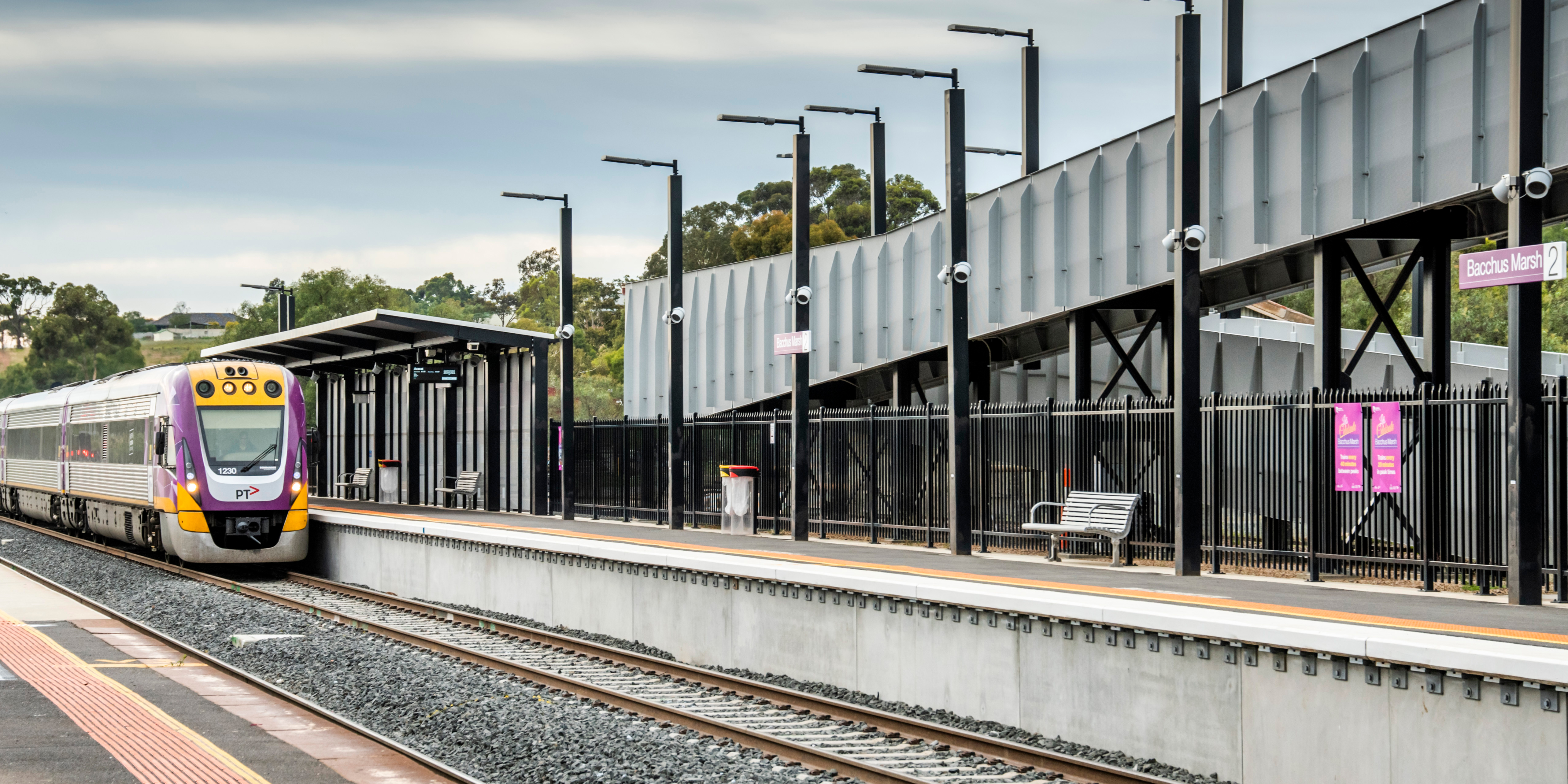 The upgrade was completed on Sunday 31 January after a 5- week occupation that started on Boxing Day. Crews carried out commissioning, critical safety testing and driver training during the final phase of works to integrate the new track, platforms and passing loops built as part of the project with the existing network. Works included completing seven level crossings over nine days, removing four level crossings on the decommissioned Bungaree passing loop and completing trackwork at Bacchus Marsh Station. Add in a new operating greenfields timetable that was introduced from Sunday 31 January and you've had a busy time of it since Christmas.
"The final commissioning of the Ballarat Line Upgrade is a major milestone for the business and has help establish Coleman Rail as a major constructor in the Australian rail market, which will lead to further work opportunities with Rail Projects Victoria," said Sean Bonham, Executive General Manager of Coleman Rail. "Team BLU should be very proud of getting the job done!"
Construction Manager Josh Thompson has been on the project since mid-2017 and said the final occupation was a tremendous success and testament to the team. "A 34-day occupation that was completed 100% on time, including the first three days of operational performance post-major commissioning, plus the introduction of a new greenfields timetable."
In fact, the whole project was a great success. "Over three and a half years the project inducted some 4,800 people, worked 1.6 million hours and had zero Lost Time Injuries. That's not insignificant," said Josh.
The project has delivered the critical infrastructure needed for the new services, including track duplication, passing loops, signalling upgrades, new platforms and extra track at key stations.
Passing loops at Ballan and Millbrook are in operation, and provide more options for trains to pass each other in these sections, allowing more frequent services and helping services recover faster from unexpected delays.
The 18km of track duplication between Melton and Deer Park West has helped to boost reliability along the entire line.
The project also delivered a new station at Cobblebank and major upgrades at Rockbank, Ballan, Bacchus Marsh and Wendouree stations.
Upgrades at Wendouree Station allow trains to pass each other here for the first time, so passengers on delayed services from Melbourne are less likely to be transferred to replacement coaches at Ballarat.
Passengers at Rockbank, Ballan and Bacchus Marsh are enjoying more accessible and comfortable stations, with pedestrian overpasses featuring lifts and ramps, better lighting and CCTV, improved car parks and better bike storage.
Bacchus Marsh passengers also have 100 extra parking spaces, while the Rockbank Station rebuild included a new car park with 350 spaces.
Trains and passengers are now using the new second platforms at Ballan, Bacchus Marsh and Wendouree stations.
The Hon. Jacinta Allan, Minister for Transport Infrastructure and Minister for the Suburban Rail Loop, was on hand for the opening of the Ballarat Line.
"What a day for the Ballarat line. We've completed the massive Ballarat Line Upgrade and delivered 135 extra services to get passengers along the line where they need to go more reliably than ever before," said the Minister.
"Thanks to the crews for their around-the-clock work on the project, and to the fantastic station staff - including the Stationeers - who keep the station grounds and beautiful heritage elements looking great."
What is included?
The Ballarat Line Upgrade has included:
Duplicating 18 kilometres of track between Deer Park West and Melton

Building a new Cobblebank Station

, between Rockbank and Melton, separately funded by the Victorian Government's Growth Area Infrastructure Contribution

Rebuilding Rockbank Station

, including new, longer platforms, a pedestrian overpass and a car park with 350 spaces

Upgrading Bacchus Marsh Station

including a new platform, pedestrian overpass and 100 new car park spaces

Upgrading Ballan Station

including a new platform, pedestrian overpass and a new car park on the southern side of the station

Upgrading Wendouree Station

including a new platform, pedestrian overpass and extra track

Duplicating track at Bacchus Marsh
Building a new stabling facility at Maddingley
Building passing loops at Ballan and Millbrook
Signalling upgrades and track improvements, and

Decommissioning the Bungaree passing loop and removing five level crossings.
The construction contractor for the Ballarat Line Upgrade was a consortium comprising ACCIONA, Coleman Rail and SMEC, in partnership with RPV and V/Line.