The Future of Construction Summit is billed as the annual gathering for the people and companies redefining Australasia's construction industry, and ACCIONA played a big part at FCON22, held at the Sofitel Sydney Wentworth on 4-5 May.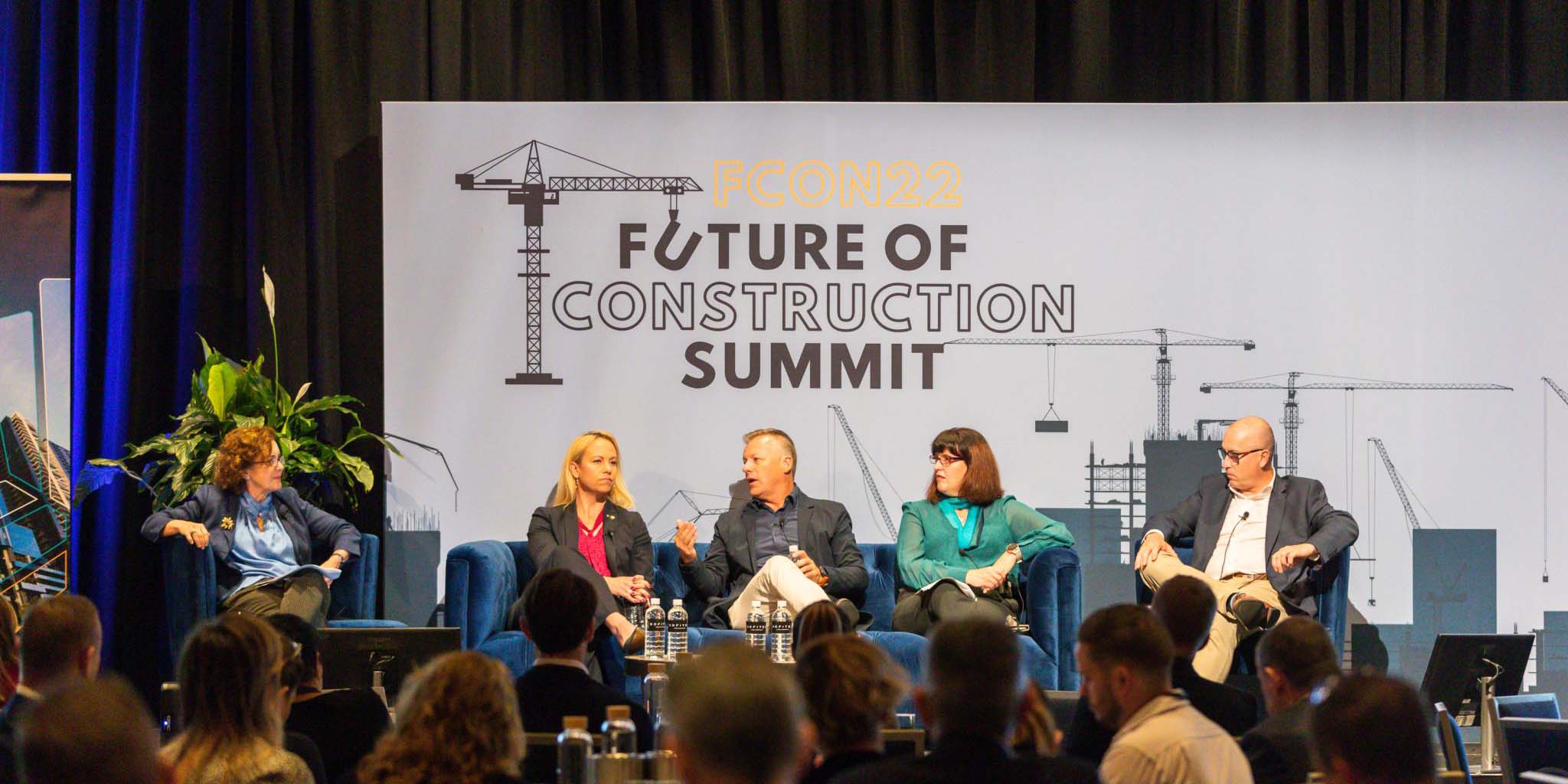 CEO Bede Noonan appeared on the first panel discussion, Realising the $15B productivity opportunity.
Bede was joined by Corey Hannett (Director General, Major Transport Infrastructure Authority), Louise Adams (Group Chief Operating Officer, Aurecon) and Sonya Campbell (Executive Director, Head of Infrastructure, NSW Treasury), with the panel facilitated by Meg Redwin (Executive Director General Counsel, Multiplex).
The baseline of the panel's discussion was that 'productivity growth of the construction industry over the last 30 years trails that of other significant industries by 25%. If we could just halve the gap in productivity, we could be constructing an extra $15b of infrastructure every year for the same level of expenditure. Government and industry are working together to maximise the value of infrastructure but how does this translate to identifiable actions?'
The panel discussed what is needed to address the productivity shortfall, and procurement reform and value for money.
Bede remarked that "the key ingredient to improving productivity is rebuilding trust in our industry" and this was one of the key takeaways from the panel, one of many honest and productive discussions at FCON22.
You can watch a review of the productivity panel here.
*
Executive General Manager Craig McGrory also featured on day 1 as part of a sustainability panel, Implementing ESG to achieve a net zero future for construction.
Craig appeared alongside Samantha Johnson (Executive General Manager HSEQ, McConnell Dowell), Pamela Henderson (Executive Director, Technical Services, Transport for NSW) and Ainsley Simpson (Chief Executive Officer, Infrastructure Sustainability Council), with the panel facilitated by Sumit Oberoi (APAC Industry Strategy Manager, Autodesk Construction Solutions).
The baseline of the panel's discussion was that 'across Australia, it is estimated that infrastructure contributes around 70% of our national emissions; with around 15% directly contributed through the delivery and operations of that infrastructure. The panel explored the options and enablers to map the path to net zero in construction infrastructure, as well as looking at the societal and governance implications that will enhance the industry for all.'
The panel discussed developing and implementing ESG across the organisation, and establishing and embedding sustainable supply chains.
Craig's key points were that although we are all at different levels of maturity in moving to net zero, we all experience the real challenge for our industry in reducing gross CO2 emissions.
Craig referenced that the Hon. Paul Fletcher spoke earlier of our Western Sydney Airport project that requires 28 million cubes of dirt to be moved. It's a great project, but diesel use represents over 75,000 tonnes of CO2.
So the questions are:
Do we really value a net zero future? Or is it part of meeting a socially acceptable target?
Is it valued in decision making that recognises investments in a sustainable future?
Are we sincere about gross CO2 reduction? Or are we focused on allocating the carbon to someone else, so it isn't mine?
Craig went on to explain that opportunity exists in designing for a low CO2 future (reducing materials, circularity, etc.) and developing construction methodologies that enable low CO2 (particularly reducing diesel use).
In summarising, Craig made the point that we need to work together with clients, investors, designers and contractors to establish frameworks that incentivise these opportunities.
*
Day 2 saw Head of Digital Engineering Brett Lehmann host a roundtable titled Examining digital engineering in construction.
Brett's roundtable went well, with his discussion themes:
3D and "Time to Understanding"
Importance of maintaining a "Spatial Reality"
4D is basically "Construction Methodology"
Digital, a "Common Language", and
The future of "Digital Mobility and Data Capture".
Despite competing with the noise generated by nearby roundtables, Brett thoroughly enjoyed it.
All in all, it was a productive and effective two days for ACCIONA at a revamped event that brought together senior industry leaders to share ideas, learn and network.