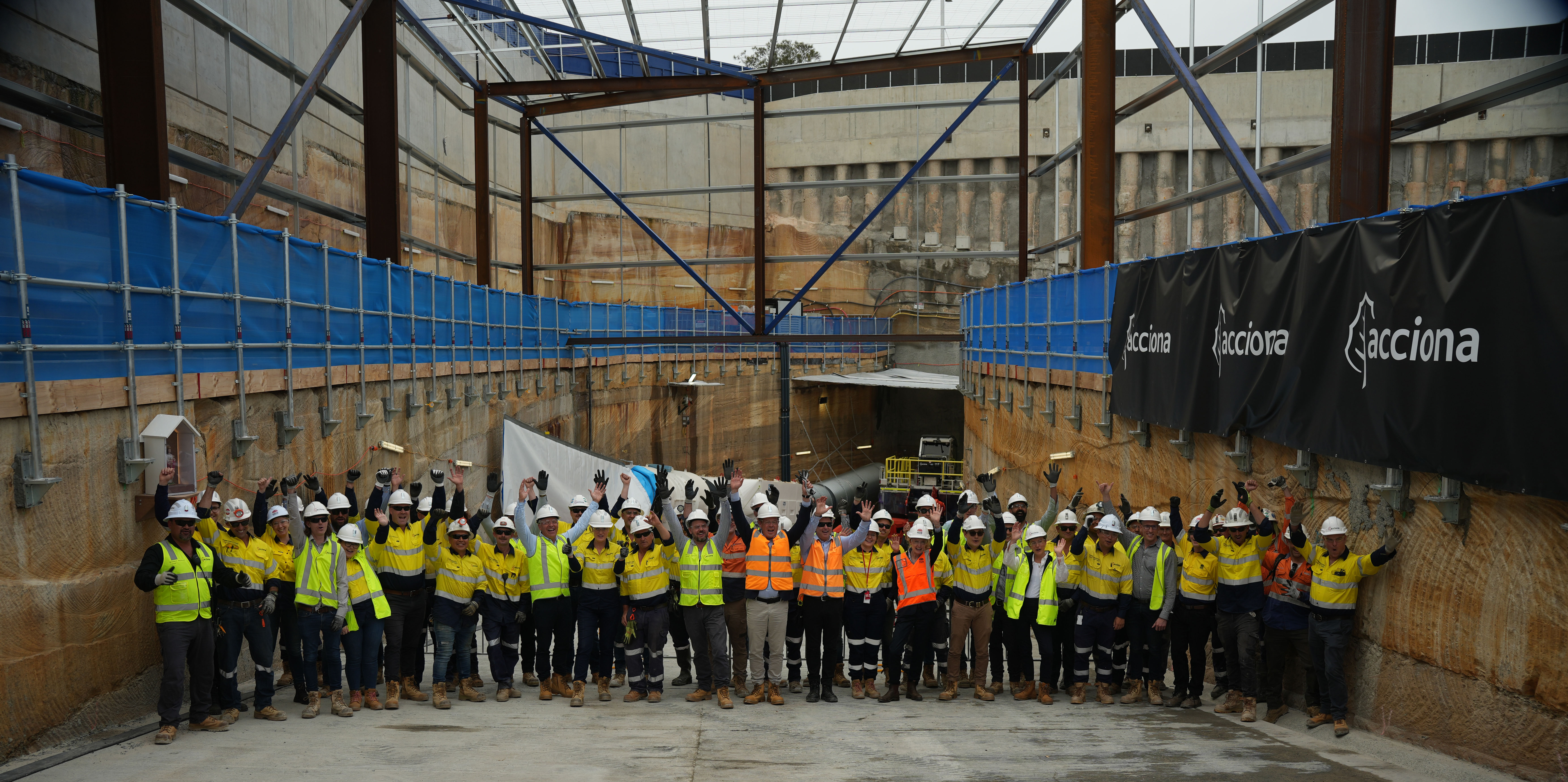 ACCIONA is proud to announce that tunnel excavation has officially commenced on the Western Harbour Tunnel Stage 2 project.
This iconic project is part of the NSW Government's largest infrastructure program in history, which will transform the way people and goods move.
Our first roadheader has set off from the Cammeray temporary construction site forming a temporary access tunnel underneath road reserve towards the Warringah Freeway, where it will start excavating the mainline tunnels, travelling south underneath the Warringah Freeway towards our Ridge Street temporary construction site.
ACCIONA Chief Executive Officer Australia & New Zealand, Bede Noonan, said ACCIONA's contribution to the innovative design of the Western Harbour Tunnel is driven by ACCIONA's approach to continuously seek more sustainable solutions for how infrastructure is designed and delivered – an approach that differentiates and guides ACCIONA every day and one that will continue to be applied as tunnel excavation begins. 
"Reaching this milestone is a testament to everyone's collective hard work with our partners, Transport for NSW, and our design Joint Venture partners Aecom and Aurecon. Over the coming years, it will be our privilege to deliver this regenerative and world class transport solution to the people of NSW," Mr Noonan said.
ACCIONA has designed and constructed more than 600 kilometres of urban road and rail tunnels worldwide. Being part of the Western Harbour Tunnel project is not only momentous for the business in Australia, but it will be globally recognised for an infrastructure solution that is technologically advanced, improves the construction experience for local communities, optimises environmental performance and delivers better value for the people of NSW.
ACCIONA was awarded the contract in December 2022 and it is valued at an estimated AU$4.24 billion (€2.76B). 
About the project:
By creating a western bypass of the Sydney CBD, the Western Harbour Tunnel will take pressure off the Sydney Harbour Bridge, Sydney Harbour Tunnel, Anzac Bridge and Western Distributor corridors to improve transport capacity in and around Sydney Harbour.
It connects to WestConnex at the Rozelle Interchange, crosses underneath Sydney Harbour between Birchgrove and Waverton, and connects with the Warringah Freeway near North Sydney via a 6.5km tunnel with three lanes in each direction.
ACCIONA is delivering Stage 2 on behalf of Transport for NSW and includes construction of the northern end of the tunnel, from Birchgrove, under Sydney Harbour, to North Sydney, and the complete tunnel fit out. The contract for Stage 2 was awarded in late 2022 and early works commenced in May 2023.
About ACCIONA:
ACCIONA is a global leader in sustainable infrastructure solutions.
The company invests in, develops, and operates infrastructure assets that address the needs of society and make our planet more sustainable. 
In Australia, ACCIONA has evolved from a rich history of local companies who have delivered complex, sustainable, and iconic projects across this country for over 100 years. With a business that spans the entire value chain, from design and construction through to operation and maintenance, ACCIONA combines deep Australian knowledge with global experience to deliver a broad portfolio of sustainable infrastructure solutions, now and into the future, that are enhancing the lives of all Australians.
Globally, the company has been carbon neutral since 2016, recorded sales of €11.2 billion in 2022 and has a business presence in more than 40 countries.
Media contact
Jennifer Smillie
+61 456 203 085
jennifer.smillie@acciona.com