17 global goals
to ensure that all people have equal opportunities and can lead better lives without compromising our planet
contributing to key goals
Contributing to the SDG's through ensuring everyone can have equal opportunities to vital infrastructure including renewable energy, clean water and sustainable cities. Our aim is to meet the needs of today, without compromising the ability for future generations to meet theirs.
ACCIONA is doing its part to help Australia meet the Sustainable Development Goals through contributing to key goals including access to clean water and sanitation (no. 6), affordable and clean energy (no. 7), industry, innovation and infrastructure (no. 9) and mitigating climate change (no. 13). To a different extent, it also contributes to the rest of the goals through indirect initiatives.
Sustainable Development Goals
The 17 global development goals set by the United Nations addresses the greatest challenges to humanity from a global perspective.
It is only through the collaboration of governments, sustainable energy companies, businesses, and citizens that we will be able to solve these issues. ACCIONA is committed to sustainability and this is reflected in its contribution towards these sustainable development goals (SDG's).
Challenges such as water and sanitation shortages, decarbonisation of the energy system, the need for resilient infrastructure and development of more sustainable cities, is what ACCIONA is determined to address through our projects. Find out more about the key goals that ACCIONA contributes to, that promote sustainable infrastructure in Australia.
Sustainable Development Goal 6
CLEAN WATER AND SANITATION
More than 844 million people in the world live without access to a basic drinking water service, and about three times as many lack access to basic sanitation. ACCIONA's Water business meets the supply needs of a total population of over 90 million people in 30 countries around the world.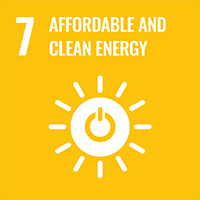 Sustainable Development Goal 7
AFFORDABLE AND CLEAN ENERGY
ACCIONA is contributing to SDG 7 through generating clean energy from our renewable assets. Our projects will supply clean energy that will go towards the 2030 goals related to increasing renewable energy into the global energy mix, providing access to affordable, reliable and modern energy services and improving energy efficiency. ACCIONA contributed 1,234 GWh of renewable electricity to the Australian grid in 2019 , through three wind farms and a waste to energy plant. This will be even higher in the coming years as we include the contribution from the Mt Gellibrand wind farm (recently commenced operation), Mortlake South wind farm (due to commence operation in 2021) and MacIntyre wind complex (commencing construction in 2021).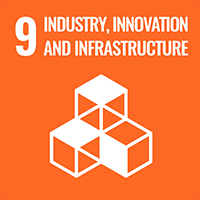 Sustainable Development Goal 9
INDUSTRY, INNOVATION AND INFRASTRUCTURE
Developing quality, reliable, sustainable and resilient infrastructure to support economic development and human well-being is vital in our fight against climate change. It is important that companies that are delivering our infrastructure have a sustainable and innovative mind. ACCIONA's recent transport infrastructure projects have included two highways, the Sydney Light Rail and other innovation projects . Local outcomes from these projects resulted in nearly $1 million AUD investment in innovation, 60.5km of new and upgraded roads and 12km of light rail.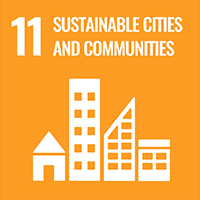 Sustainable Development Goal 11
SUSTAINABLE CITIES AND COMMUNITIES
Currently, cities represent 3% of the earth's land, however they contain over 50% of the population! This figure is expected to increase to 70% in 2050. That's why, it is so important that we are building sustainable cities and communities so that we can thrive.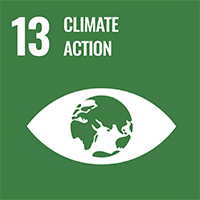 Sustainable Development Goal 13
CLIMATE ACTION
With the rise of temperature, sea levels, land diversification and water scarcity, it is important that companies take action against climate change by investing in sustainability through things like composite materials, reducing emissions and creating a circular economy through renewable energy and waste-to-energy projects. In Australia, ACCIONA avoided 15 tonnes of CO2 emissions per capita. This was measured from 3 of our wind farms. As a result, our local operations avoided 1.1 million tonnes of CO2 emissions (2019).