17 global goals
to ensure that all people have equal opportunities and can lead better lives without compromising our planet
contributing to key goals
Contributing to the SDG's through ensuring everyone can have equal opportunities to vital infrastructure including renewable energy, clean water and sustainable cities. Our aim is to meet the needs of today, without compromising the ability for future generations to meet theirs.
ACCIONA is doing its part to help Australia meet the Sustainable Development Goals through contributing to key goals including access to clean water and sanitation (no. 6), affordable and clean energy (no. 7), industry, innovation and infrastructure (no. 9) and mitigating climate change (no. 13). To a different extent, it also contributes to the rest of the goals through indirect initiatives.
Sustainable Development Goals
The 17 global development goals set by the United Nations addresses the greatest challenges to humanity from a global perspective.
It is only through the collaboration of governments, sustainable energy companies, businesses, and citizens that we will be able to solve these issues. ACCIONA is committed to sustainability and this is reflected in its contribution towards these sustainable development goals (SDG's).
Challenges such as water and sanitation shortages, decarbonisation of the energy system, the need for resilient infrastructure and development of more sustainable cities, is what ACCIONA is determined to address through our projects. Find out more about the key goals that ACCIONA contributes to, that promote sustainable infrastructure in Australia.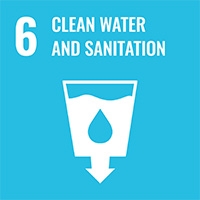 Sustainable Development Goal 6
CLEAN WATER AND SANITATION
ACCIONA contributes to this project at a large scale, with over 1,033 billion litres of water treated through water treatment and desalination plants across the globe, and almost half of this water treated in water stressed countries. We also have integrated water management plans to manage and reduce water consumption within the company One example is the use of recycled water where possible. During construction of the WestConnex Tunnels in Sydney, recycling reduced water reduced consumption on the project by over 245 million litres!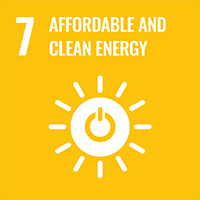 Sustainable Development Goal 7
AFFORDABLE AND CLEAN ENERGY
Goal 7 outlines the need to ensure access to affordable, reliable, sustainable, and modern energy for all. Clean energy projects reduce the production of greenhouse gases that warm the atmosphere and other pollutants that cause health problems, produced whilst burning fossil fuels. ACCIONA is leading the way in this goal, being the world's largest energy retailer that deals solely in renewably energy projects. In 2021, ACCIONA produced 24,541 GWh of renewable energy across the globe; enough to power over 7.6 million homes for a year. We have constructed and now operate multiple wind farms in Australia, with the MacIntyre Wind Farm soon to be added to our portfolio: when completed, the wind farm will be one of the largest onshore wind farms in the world.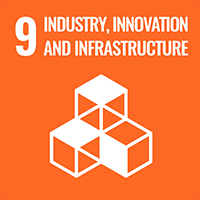 Sustainable Development Goal 9
INDUSTRY, INNOVATION AND INFRASTRUCTURE
Goal 9 involves building resilient infrastructure, promoting inclusive and sustainable industrialisation, and fostering innovation. Sustainable infrastructure is at the heart of ACCIONA's activities. We are currently working on multiple major urban infrastructure and transport infrastructure projects geared to help growth, with 87.5km of roads built worldwide in 2021 and other projects such as the Western Sydney Airport Airside Civil Works underway. We strive to improve sustainability on these projects through implementing circular economy strategies to reduce waste, with 87% of waste recovered in our operations in 2021. We also contributed over €123 million specifically to improve construction innovation across 82 projects, so that our techniques are always improving.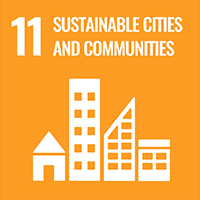 Sustainable Development Goal 11
SUSTAINABLE CITIES AND COMMUNITIES
Goal 11 asks us to help make cities and human settlements inclusive, safe, resilient and sustainable, by improving access to housing, transport and green public spaces, and reducing the environmental impacts of cities. ACCIONA is helping shape cities to pursue this goal, through work such as the level crossing removal projects in Australia, which has considerably improved road safety. Through our work on the São Paulo metro line 6 in Brazil, we also transported 600,000 passengers each day on public transport. Through these sustainable infrastructure projects and our renewables, we also avoided 1,454 tonnes of nitrous oxides, 2,033 tonnes of sulphur oxides and 28 tonnes of particulate matter through Spanish projects alone, all of which significantly worsen health outcomes.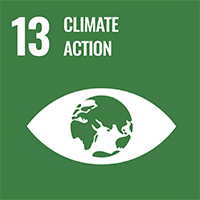 Sustainable Development Goal 13
CLIMATE ACTION
Goal 13 demands urgent action to combat climate change and its impacts, by strengthening resilience and significantly increasing mitigation activities. ACCIONA's top priority is embracing the fight against climate change. We are focused on both mitigation, for example through our clean energy projects, and adaptation, such as strengthening access to resilient water sources in many countries. Climate action considerations are also integrated throughout our internal activities, and in 2021, we officially ratified our commitment to our circular economy strategy, aimed at reducing waste and consumption, thus reducing energy-related emissions from the production of goods and services. Thanks to these efforts, we avoided over 13 million tonnes of CO2-equivalents (greenhouse gases) in 2021.