Two students have received bursaries towards their tertiary studies funded from the MacIntyre Wind Farm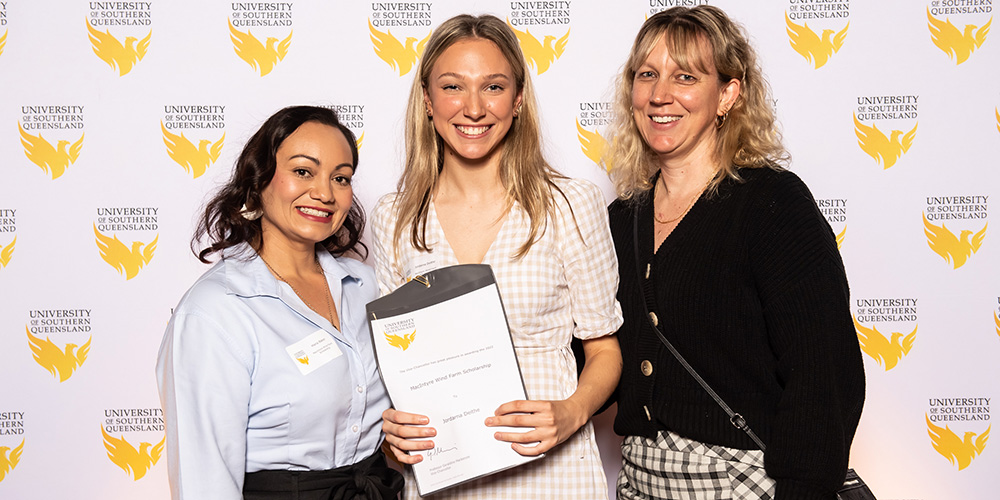 A student on an accelerated path of study from high school into university and a mother of three are the recipients of the 2022 MacIntyre Wind Farm Scholarship.
Funded by ACCIONA Energía as part of the MacIntyre Wind Farm Community Benefit Sharing Program, the scholarships support students to attend university and pursue their tertiary ambitions.
"This year's recipients run to the heart of why we run these programs. To see young women pursuing their dreams and gaining the skills they want in life to get ahead is exactly the kind of community support we strive to provide," said ACCIONA Energía Spokesperson Emma Reiners.
In partnership with the University of Southern Queensland (USQ), ACCIONA Energía supports scholarships for students experiencing or who will experience financial hardship as a result of their studies and where a bursary will assist in relieving these pressures.
"ACCIONA Energía's projects are about more than just energy generation," said Ms Reiners. "These projects help support, build and grow the communities in which we operate."
In addition to supporting scholarships at USQ, ACCIONA Energía also operates the MacIntyre Wind Farm Community Grants Program.
Since starting in 2019 the Community Grants Program has donated over $260,000 to local community and charitable organisations as part ensuring benefits from the wind farm support all of the community.
"Community grants are a core element of what we do, and we proudly support a wide range of projects and beneficiaries," said Ms Reiners.
"Rates, road and infrastructure upgrades are important parts of our projects but when we can make a direct financial contribution to community members its deeply rewarding to see the difference this can make in people's lives."
The 2022 MacIntyre Wind Farm Scholarship recipients are:
17-year-old Jordarna Deithe should be completing Year 12 in 2022, but instead, completed the Tertiary Preparation Program as an accelerated pathway into university and is beginning her Bachelor of Medical Laboratory Science at USQ's Toowoomba campus.
The second recipient for 2022 is Natalie Coote who started a Bachelor of Education (Primary) as an online student from her hometown of Goondiwindi.
The MacIntyre Wind Farm is part of the MacIntyre Wind Precinct, the largest wind farm in Australia and one of the largest in the southern hemisphere. With 180 turbines, the wind precinct will produce 1,026MW of renewable electricity, enough to power the equivalent of 700,000 homes.
To learn more about our scholarship program, click here. To learn more about the MacIntyre Wind Farm Precinct, click here.