The MacIntyre Wind Precinct will generate 1GW of renewable energy annually. Enough to power 700,000 homes.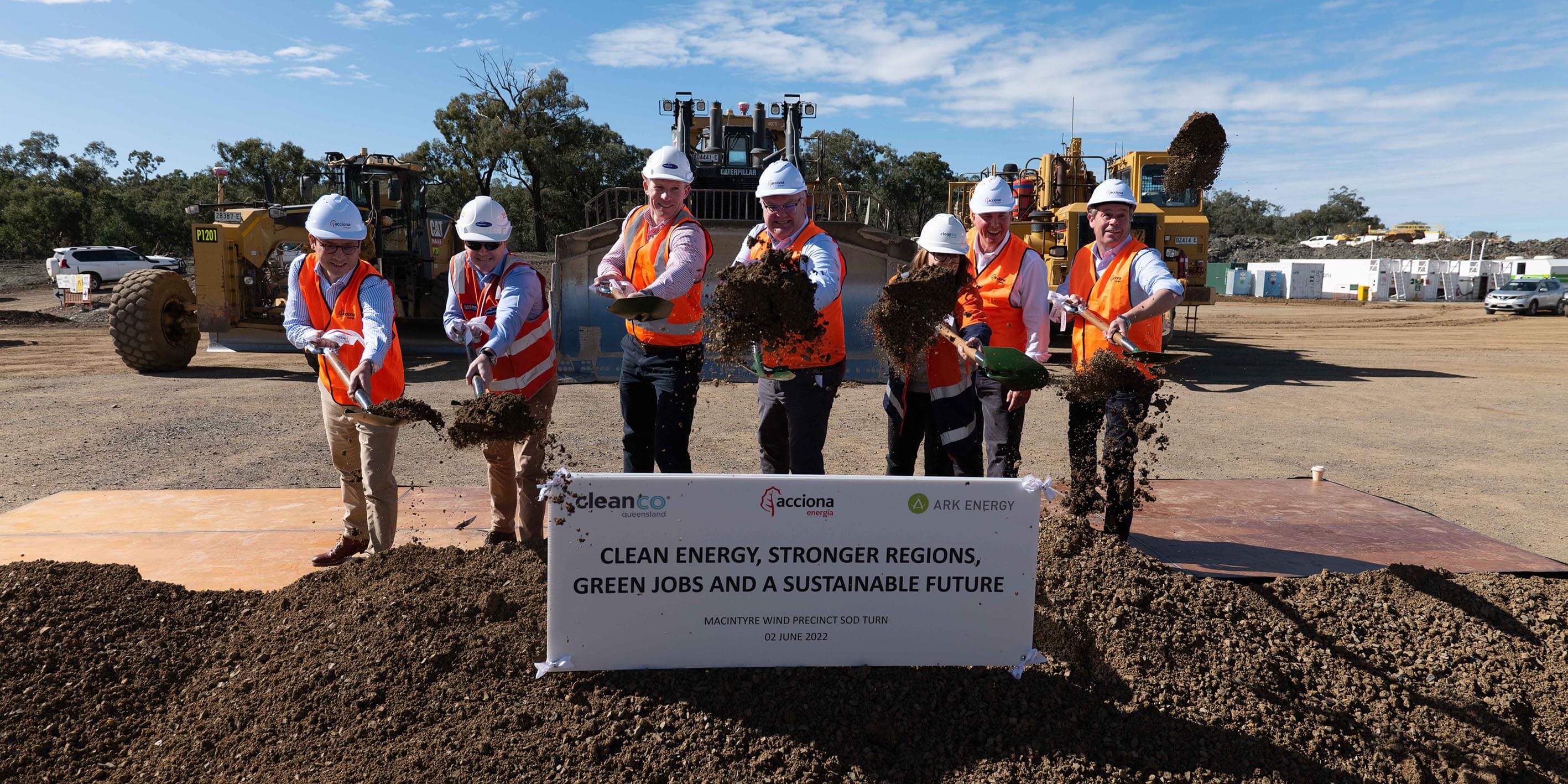 Construction has started on the largest wind farm to ever be built in Australia and one of the largest in the southern hemisphere.
The AUD $2 billion MacIntyre Wind Precinct will be built by global renewable energy leader ACCIONA Energía creating hundreds of jobs in regional Queensland.
MacIntyre boasts 180 world class turbines that will produce 1,026MW of clean renewable wind energy using the world's most efficient and advanced turbines from Germany. When complete, the Precinct will generate enough electricity to power the equivalent of 700,000 homes each year.
"I believe MacIntyre is the start of a golden age of renewable energy in Australia. One that takes full advantage of our renewable resources with projects that help drive and develop our regional economies," said ACCIONA Energía Managing Director Brett Wickham.
"MacIntyre is the largest project ACCIONA Energía has undertaken anywhere in the world and will be our flagship development for many years to come."
"The Precinct demonstrates that large scale renewable energy projects can create hundreds of jobs, bring in billions of new investment and create new economic foundations in regional towns."
The Precinct will create over 450 direct jobs during construction with an additional 220 jobs supported by Powerlink to build the transmission infrastructure. When in operation in 2024 the Precinct will directly employ 15 staff to maintain the site. Additionally, the Precinct will also source $500 million in work from Queensland suppliers further fuelling regional businesses.
"Australia has such an abundance of renewable energy resources. All across the country, projects like MacIntyre can harness and capitalise on this opportunity to realise a new golden age."
"Large scale renewable projects lay new foundations that support larger local economies and create new employment opportunities for those living in the area," said Mr Wickham.
The MacIntyre Precinct is also supporting the Queensland Government's ambitions for 50% of its energy needs to come from renewable sources by 2030.
"MacIntyre will avoid about 3 million tonnes of CO2 from being emitted into the atmosphere, said Mr Wickham. "It shows that renewable energy projects can both achieve our climate goals as well as create hundreds of real jobs and bring in hundreds of millions of new investment in the process".
The formal start of construction was commemorated by a sod turning ceremony that took place at the wind farm's construction site 60 kilometres west of Warwick in the Southern Downs.
The MacIntyre Wind Precinct consists of two wind farms. The 18 turbine Karara Wind Farm owned and operated by Queensland State Owned Enterprise CleanCo and the 162 turbine MacIntyre Wind Farm that will be owned and operated by ACCIONA Energía.
CleanCo Chair Jacqui Walters said that the Precinct was a major step forward with the renewable energy generated by the MacIntyre Precinct helping to support CleanCo to deliver reliable, clean energy solutions at a competitive price for customers helping them thrive in a net zero future.
"With the capacity to supply the equivalent of nearly 700-thousand homes, this massive MacIntyre project will substantially boost renewable energy supply in Queensland helping our industries, businesses and communities to achieve their sustainability goals," said Ms Waters.
Queensland based Ark Energy is a co-investor in ACCIONA Energía's MacIntyre Wind Farm. CEO Daniel Kim said it's a huge privilege to be partnering with ACCIONA Energía on this landmark project.
"With our equity offtake from MacIntyre we plan to accelerate the decarbonisation of our sister company's zinc refinery in Townsville as part of their ambition to be one of the first major refineries in the world to produce green zinc," said Mr Kim.
Media Contact: William Churchill – Communications & Government Relations Manager
+61 (0)476 915 940 william.churchill@acciona.com