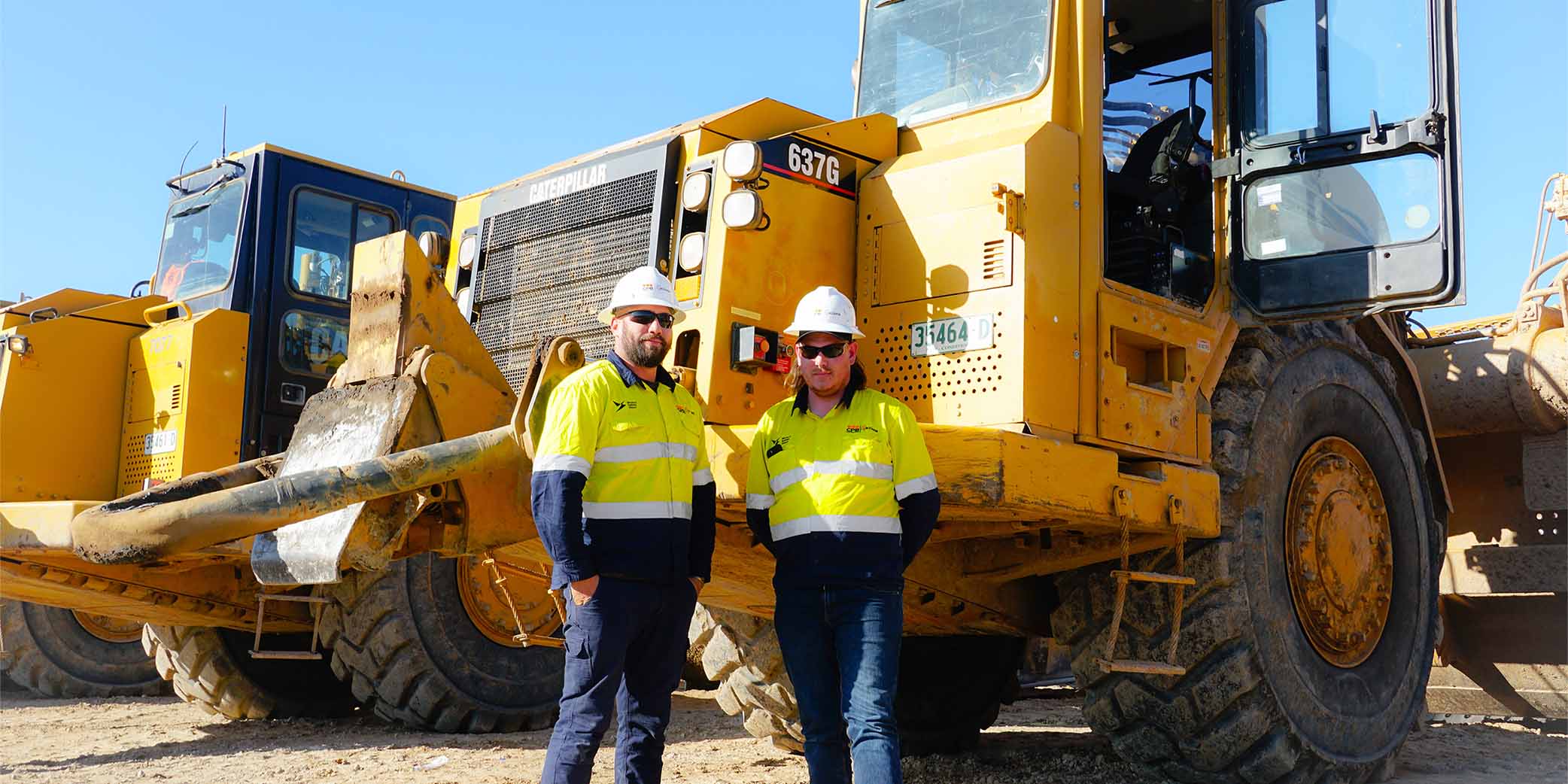 Image from left: Broe Reti and Hayden Simpson
Broe Reti and Hayden Simpson are talking down a scratchy Teams connection from the Western Sydney Airport (WSA) site. They're a little reticent at first about the thing they've created, but they warm up as the topic develops. This is, after all, a little bit of ACCIONA history: Broe and Hayden are the Scraper Bros.
Broe, 37, is from Grafton in northern NSW. He started working at Ballina for Lendlease back in 2017. He began under a labour hire agreement, worked hard and got offered a full-time position with Lendlease, and, as he puts it, 'my career just went up and up'.
'He wanted to set up a First Nations scraper fleet.'
General Superintendent Paul Bull (Bully) is looking on proudly during the Teams call. 'Bully hit us up about supporting indigenous blokes on site,' Broe says. 'He wanted to set up a First Nations scraper fleet. It's a great idea: we've got some great blokes over here. There's plenty of Indigenous people, and now we've got two or three on scrapers, and we can build from there.'
Back when Broe was on the Ballina sections on the Pacific Highway, he met Hayden Simpson, who at 28 is a fair bit younger and was relatively junior on site. Hayden also got his start under labour hire and followed Broe's path, working his way up at Ballina 'for two or three years' towards a full-time position. Broe was team leader by then, with 'a crew of blokes going out and doing the enviro, the rock mattresses, and blankets,' and he took young Hayden under his wing.
Broe's a Wiradjuri man on his mother's side and an accomplished artist. Or, as he puts it, 'I do a bit of painting to get our kids and me into our culture.' It's no small task: he and his wife have got five kids, ranging all the way up to their eldest, Noah, a talented NRL player at Clontarf Aboriginal College.
He tries to get the family out on country as much as possible, and he's made a didgeridoo for them – 'just don't ask me to play it.' The idea is to pass it on to them as a family heirloom, again, to keep culture alive.
Hayden's heritage is Bundjalung and Yaegl on his mother's side, from northern New South Wales. His big break with ACCIONA came when he got a call to come to Sydney to work with Bully at Western Sydney Airport. 'Bully put me on full-time and gave me a chance on a scraper,' Hayden says. 'It's good work. It takes a bit of getting used to – it's definitely got a touch to it. These things are a million dollars second-hand, and at one stage, we were running 78 of them, moving 115,000 cubic metres a day. It gets the adrenaline going.'
The Scraper Bros., as they've taken to calling themselves, are doing 10-12 hour days at WSA and earning 'pretty good money' by their own assessment. The three of them – Broe, Hayden and Bully – have had one of the 51s designed up with a logo and colours for the Scraper Bros.
The skill of operating the Caterpillars is highly transferable and likely to set both of them up for long careers in the industry. According to Hayden, the starting point is the single-power scraper, or "51", which has one engine. Once that's mastered, a driver can advance to the "637s", which are twin-engined. The fact that these units operate in pairs led to the Scraper Bros. concept.
The formation of an ACCIONA mob.
And Broe wants to take the idea one giant step further: the formation of an ACCIONA mob. 'I invented it in Melbourne,' he says. 'Hayden's my Scraper Bro – we work together every day and support each other. We know what each other's doing, and Hayden will often suggest better ways we could do things. We back each other one hundred per cent, and that helps make us efficient and safe. We want to make sure we get home to the families.'
Broe's got five kids; Hayden three, and their families live in Grafton and Casino, over six hours north of the WSA site. 'The company's very family-oriented,' Hayden says. 'But even then, it's hard sometimes.'
'So this idea of an ACCIONA mob could get really big,' he continues. 'I don't just see it as an Indigenous thing. It can bring in pretty much everyone. This company's got people from all over the world.' Broe stops himself and laughs. 'Ah, it's just a little idea,' he says. 'The opportunities are endless, though. It's a good way to keep everyone together and to feel welcome.'
Bully points out that the WSA project has had Tyson Campbell, also a First Nations man, who's been with ACCIONA 'since he was a kid' and has progressed from general foreman to superintendent.
Although Indigenous identity can be indicated on forms when a worker starts with ACCIONA, Broe wants to see the company doing a better job of keeping a database of First Nations people in its workforce. Figures are available for specific projects: for instance, it's known that WSA, at the peak of artefact discovery work, had over 150 First Nations workers through the site. And it's also the case that some workers identify as Indigenous as part of their life journeys long after they've signed on with ACCIONA, meaning that intake figures are not an accurate guide to overall numbers.
'But what's important is that the response to this ACCIONA mob idea has been great,' Broe says. 'Bully has supported us one hundred per cent.' And beyond him, Bully adds, senior management has been very open to the idea of the ACCIONA mob. 'Broe flew to Melbourne for a meeting to encourage First Nations people and women to get involved in construction. I'm a Kiwi myself, and I have Māori heritage, and I know that they're very strong on it in the New Zealand industry, so the idea's already there.'
Bully is conscious of the sacrifice involved for Broe and Hayden to travel around involving themselves in these sorts of initiatives. 'It's good to see these two guys out there doing it,' he says, 'but I know that First Nations people can be very family-oriented and very connected to the place where they live. As the company moves Australia-wide, getting those workers to follow us can be hard. Broe, Hayden and Tyson are exceptions because they've been able to overcome the difficulty of being separated from their families.'
'We're doing it for our families.'
'We're doing it for our families,' Broe responds. Both Hayden and Broe are settled in a routine where they go home to their families every second weekend. They share the driving, eat on the way, and (perhaps surprisingly) talk a lot about work on the road. 'I don't see all this as a sacrifice,' Hayden says. 'I'm doing it to build a life for my kids.'
About the author
Jock Serong grew up in the suburbs of Melbourne, and like a poorly-tied dinghy, he's been drifting away ever since.
As a student and young lawyer he volunteered with the Victorian Aboriginal Legal Service on the Bringing Them Home inquiry, and did a stint in the Western Desert building a native title claim with the Martu people.
He drove a '73 HQ panel van around the country, spent some time sorting frozen prawns in Carnarvon and changed lightbulbs in Darwin Casino for seven bucks an hour. He fetched up on Victoria's west coast in the mid-nineties, then left again and became a criminal barrister. He worked with asylum seekers back when detention centres were onshore.
And he never wrote a word of it.
As Senior Grump in a young family he moved back to the coast, and something about the kelp and the storms and the long nights kicked him into gear: writing for Surfing World and other publications, he began trying to tell stories that weren't sports- writing so much as people and place-writing. Environments, First Australians, mental health, forgotten histories, the tiny miracles of life on a reef. As surfing itself expanded beyond 20th century stereotypes, Jock's writing kept pushing into new corners of the experience.
Alongside Mick Sowry and Mark Willett, Jock edited and published Great Ocean Quarterly for two fraught and wonderful years, and has produced six novels: Quota (2014), The Rules of Backyard Cricket (2016), On the Java Ridge (2017) and the Bass Strait historical novels Preservation (2018), The Burning Island (2020) and The Settlement (2022).
He divides his time between Port Fairy in western Victoria and Flinders Island in Bass Strait's Furneaux Island group.
On 22 October 2021, Jock took out the $50,000 ARA Historical Novel Prize 2021 (Adult category) for The Burning Island, presented by the Historical Novel Society of Australasia. "The winning novel demonstrates the irresistible prose, unforgettable characters, meticulous research, and epic storytelling for which historical fiction is known. The ARA Historical Novel Prize is a true celebration of the genre," said Elisabeth Storrs, Chair & Program Director.