A First Nations business in South East Queensland is celebrating a milestone contract on ACCIONA's Bruce Highway Upgrade project between Caboolture-Bribie Island Road and Steve Irwin Way (Exit 163).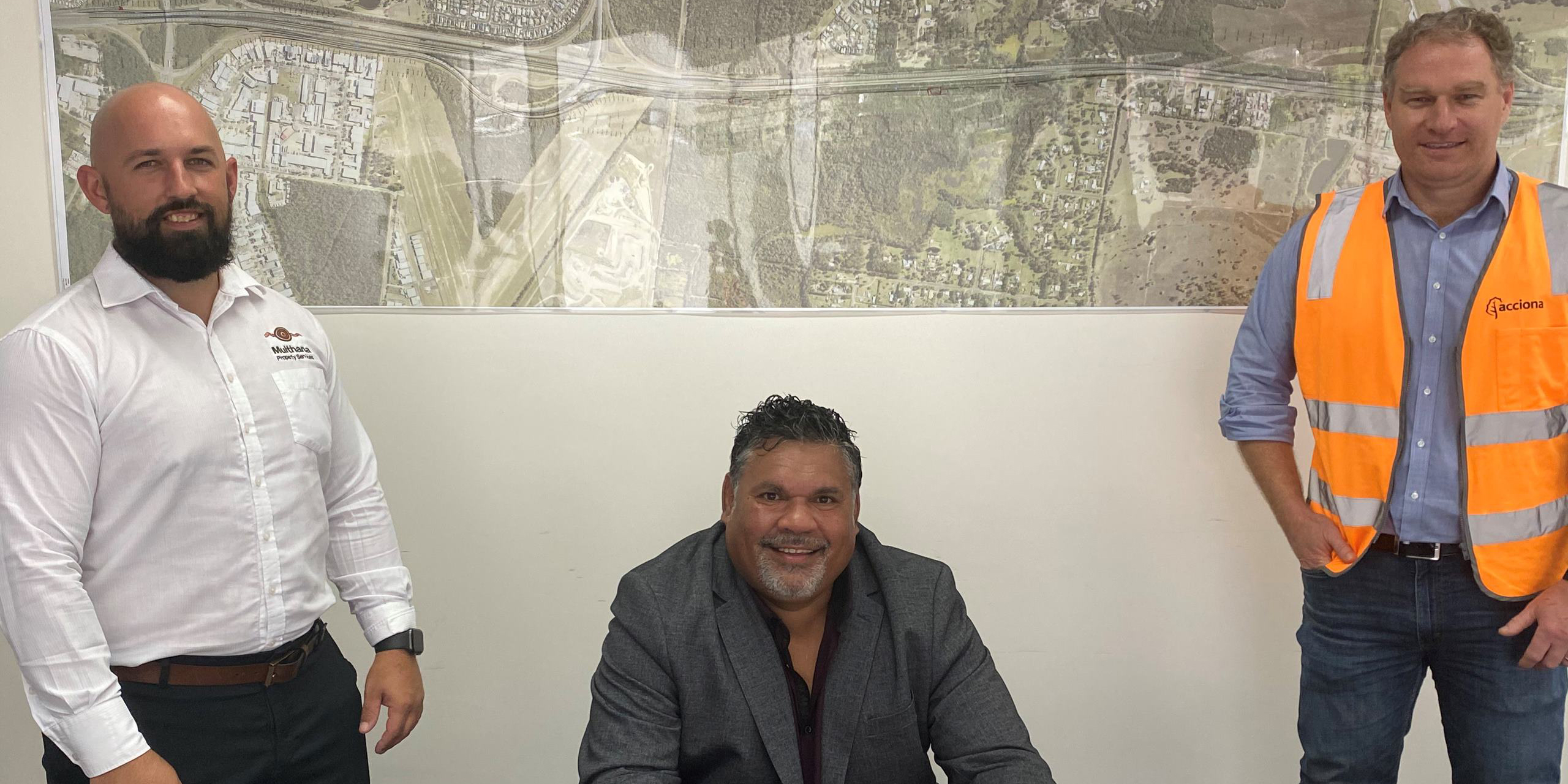 The project is being delivered under the Bruce Highway Upgrade Program – the largest infrastructure program Queensland has ever seen, aimed at improving safety, flood resilience and capacity along the length and breadth of the Bruce Highway between Brisbane and Cairns. The entire program will deliver $12.6 billion of works over a 15-year period, which is jointly funded by the Australian and Queensland Governments on an 80:20 basis, and includes the vital upgrade between Caboolture-Bribie Island Road and Steve Irwin Way.
The $662.5 million Caboolture-Bribie Island Road and Steve Irwin Way project will widen the 11km stretch of the Bruce Highway from a four-lane to a six-lane divided carriageway and includes replacing 10 bridges over five creek crossings with wider and higher bridges.
The project continues to create economic opportunities for Aboriginal and Torres Strait Islander-owned businesses through the Queensland Building and Construction Training Policy.
To that end, Multhana Property Services, which has been in operation for four years and employs 170 people, was recently awarded a $2.4 million landscaping contract. It includes hydro mulching, turfing, planting and the establishment and maintenance of landscaped areas alongside the highway between the Caboolture and Pumicestone interchanges.
The contract will create employment for 15 Aboriginal and Torres Strait Islander Queenslanders from the local Caboolture area. It is the company's largest landscaping contract to date and its first landscaping contract with the Department of Transport and Main Roads.
Multhana Property Services Founder Joseph Wallace said it is a legacy-building opportunity for his company and his workforce of Aboriginal and Torres Strait Islander staff.
"Multhana is a Kalkadoon word that means 'people coming together to help one other' and we do landscaping, commercial cleaning and building maintenance. We started out with just four people four years ago and now we have 170 people, with a team of 40 in the landscaping division. Almost half of our staff are Aboriginal and a third are women," said Joseph.
"Our very first employee, a young Aboriginal man, is still with us today. We strive to create a great working environment for women, which can be tough in the construction industry, and we have worked hard to build our capacity and refine our tender process to confidently compete with the best in the field."
ACCIONA is the principal contractor for the first contract for the highway upgrade between Caboolture-Bribie Island Road and Pumicestone Road and to date, the company has procured close to $3 million in goods and services from Aboriginal and Torres Strait Islander-owned businesses.
ACCIONA Project Manager, Jason Paterson, said Multhana Property Services had submitted a competitive and impressive tender for the Bruce Highway Upgrade's landscaping works.
"During the tender process, Multhana Property Services demonstrated an eagerness to leverage their previous landscaping experience, including hydro mulching, turfing and planting, to take on a larger-scale civil project," said Jason.
"The ACCIONA team is pleased to have Multhana Property Services on board and we look forward to supporting them to grow their experience and expand their capabilities here on Contract 1 of the Bruce Highway Upgrade in Caboolture."
ACCIONA Regional Manager, Queensland & Northern Territory, David Balmer, said Multhana Property Services' appointment on the project was a terrific example of ACCIONA's commitment to providing meaningful opportunities to First Nations People.
"ACCIONA is dedicated to playing a meaningful role in Australia's regional economic development, by providing employment and supply chain training and skills development opportunities for First Nation's People and businesses on some of the country's largest infrastructure projects," said David.
Queensland Government initiatives such as Selected Indigenous Projects under the Queensland Building and Construction Training Policy set minimum compliance requirements for engaging Aboriginal and Torres Strait Islander businesses (including supply of goods and services) and workforce (including apprentices, trainees and local workers) to generate positive economic outcomes.
The Caboolture-Bribie Island to Steve Irwin Way project is an identified project through the policy, which supports employment opportunities and skills development in Queensland's building and construction industry. It also focuses on increasing the economic independence of Aboriginal and Torres Strait Islander Queenslanders in the industry.
The entire project is expected to be completed in early 2023, weather and construction conditions permitting.
You can read a Facebook post from Mark Bailey, the state Member for Miller & the Minister for Transport & Main Roads in Queensland, here. And you can read Multhana's Facebook post here.
Background
Managing Director Joseph Wallace founded Multhana Property Services in Eight Mile Plains in 2017. Mr Wallace is an Aboriginal man with connection to the Jirrabal Rainforest People in Far North Queensland's Atherton Tablelands and the Juru People in Bowen, North Queensland.