Installation of the 18th wind turbine generator at Mortlake South Wind Farm
Marking the halfway point for turbine installation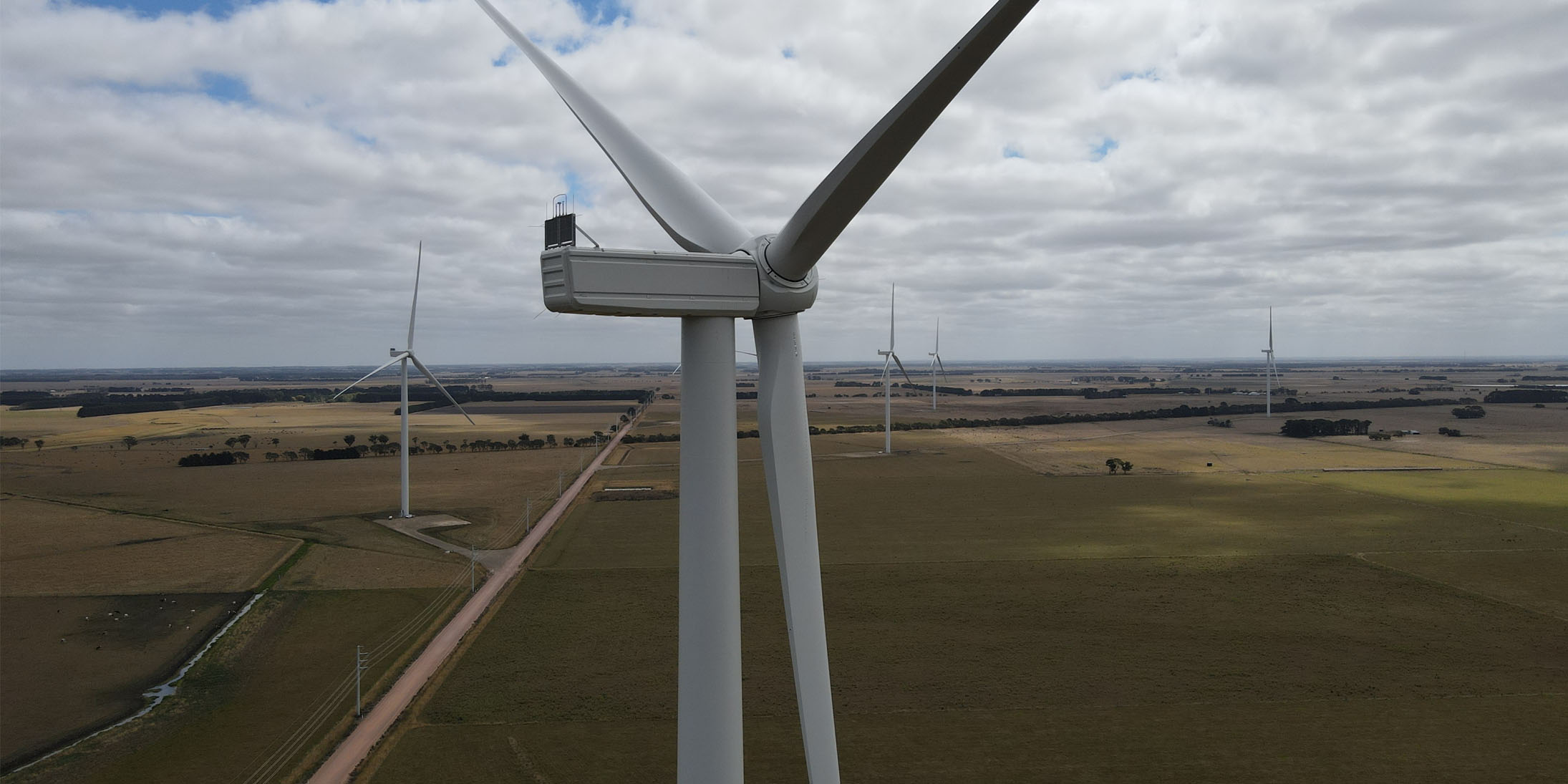 ACCIONA's Mortlake South Wind Farm has passed another important construction milestone this week, with the installation of the 18th wind turbine generator on Tuesday 16th March.
Once complete, the 157.5 MW project will house 35 wind turbine generators, with the erection this week marking the halfway point for turbine installation.
"We've faced some unique challenges during the construction period so far," said Mortlake South Wind Farm Project Manager Andrew Tshaikiwsky.
"Some supply chain delays were experienced as a result of COVID-19, and at the site itself we've had to implement new working protocols in order to keep our workforce and the local community safe."
"Despite these challenges, we were able to continue construction, albeit a little slower than planned, throughout 2020, with some pretty incredible achievements marked by the team along the way", shared Tshaikiwsky.
One of these achievements was the successful execution of the heaviest and highest crane lift at a wind farm in the Southern Hemisphere. The assembly team combined the three heaviest components – the nacelle, hub and drive train – on the ground and craned them into place in a single movement, weighing in at 210 tonnes. This 'superlift' has now been completed at 15 of the 18 turbines that have been installed so far.
The current expected completion date for wind turbine installation is June 2021. COVID-19, a particularly wet winter in 2020, and challenging wind conditions throughout early 2021 have contributed to a delay in the installation schedule.
"Our team are working hard to deliver this important renewable energy project for Victoria," said ACCIONA Energy Australia Managing Director Brett Wickham.
"Major projects like our Mortlake South Wind Farm play an important role in not only greening our State's energy mix, but also bringing a substantial economic boost, local jobs and industry development to regional areas and the communities where they're located" said Wickham.
The Mortlake South Wind Farm was successful in the 2018 Victorian Government VRET Renewable Energy Auction Scheme, supporting the achievement of the Victorian Renewable Energy Target.
This came with significant commitments to local content and local investment. All of the steel towers for the Mortlake South Wind Farm were made using Australian steel, and manufactured at either Keppel Prince in Portland, VIC, or at Heywards Steel in Tasmania.
Once commissioned, the 35 Nordex wind turbine generators at the Mortlake South Wind Farm will produce enough renewable energy to power more than 117,000 homes. 
 "We're proud to be contributing to the development of Australia's renewable energy industry, and are thrilled that this project is nearing completion," concluded Wickham.
Additional information about the Mortlake South Wind Farm can be found on the Mortlake South Wind Farm project website - https://www.acciona.com/projects/mortlake-south-wind-farm/