Congratulations to Emma Georgiou (Senior Specialist, Programs) on winning The National Association of Women in Construction IWD Scholarship for 2021.

Statement from NAWIC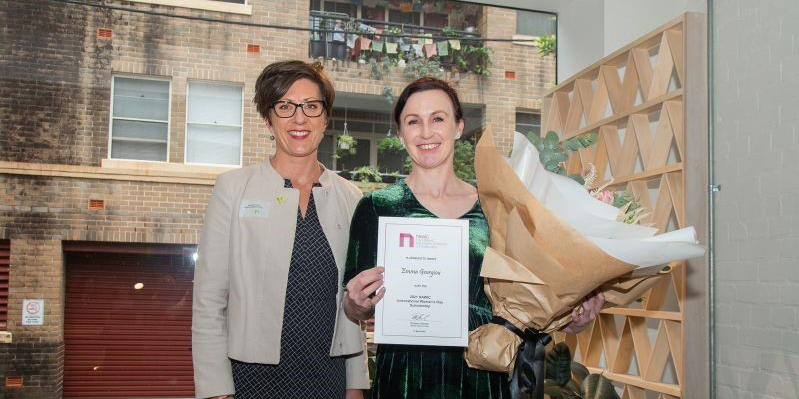 NAWIC is thrilled to announce the recipient of the 2021 IWD Scholarship is ACCIONA's Emma Georgiou, with the scholarship awarded at NAWIC NSW's International Women's Day breakfast this morning (March 11), in Sydney.
Emma's winning submission was entitled, Challenging norms in recruitment for construction: redefining the talent pool to increase women's representation at all levels.
"Emma's proposal was chosen for the potential of the research to be meaningful to a range of participants in the industry, from small businesses through to T1 builders. It also had excellent alignment with NAWIC's values and in further broadcasting and extrapolating these to the wider industry," said NAWIC's National Chair, Kristine Scheul.
Emma plans to focus her research around the question, 'Can the construction industry reframe its perspective of a female "talent pool" so it turns into an ocean of non-traditional talent, which benefits not only the industry but the economic advancement of women in Australia and the wider economy?'
On receiving the award, Emma said, "What is the future of work for Australian girls and women, when the world of work is rapidly changing, and we find women so heavily represented in those industries most impacted and vulnerable to disruption?
"I can't wait to start on this research with the support of NAWIC's scholarship to challenge industry perceptions about the 'talent pool' of women available to join our industry.
"I am curious about the potential positive industry and societal impacts of an industry-wide mindset shift on talent and capability, so that where Construction now sees a talent 'pool', it instead sees an ocean of talented, capable women ready to join this fantastic industry – and thrive once they get there.
Many thanks to NAWIC and sponsor CULT for selecting me as the 2021 NAWIC IWD scholarship winner. Special thanks to ACCIONA also, who have encouraged and supported me, and where every day is to #ChooseToChallenge as we strive to make a positive contribution to our society and to the planet."
Of the win, COO Andre Noonan said, "This is a great result; hearty congratulations go to Emma. It is very well deserved."
"I love the premise of the proposal around challenging the same old questions around talent identification. If there was ever a time for a business like ours, post the COVID-19 disruption that forced our entire society and industries to think differently, coupled with an impending infrastructure boom, it is simply good business to be driving this philosophy."
The purpose of the $20,000 scholarship is to help finance a NAWIC member involved in the construction industry to develop and/or carry out research to challenge or change current industry thinking.
The research paper is to be submitted to NAWIC in February 2022.