Auckland celebrated a significant milestone over the weekend with the official sod turning for stages two, three and four of the Eastern Busway project. The extension will connect Pakuranga to Botany, providing enhanced transportation options for residents of Auckland's eastern suburbs.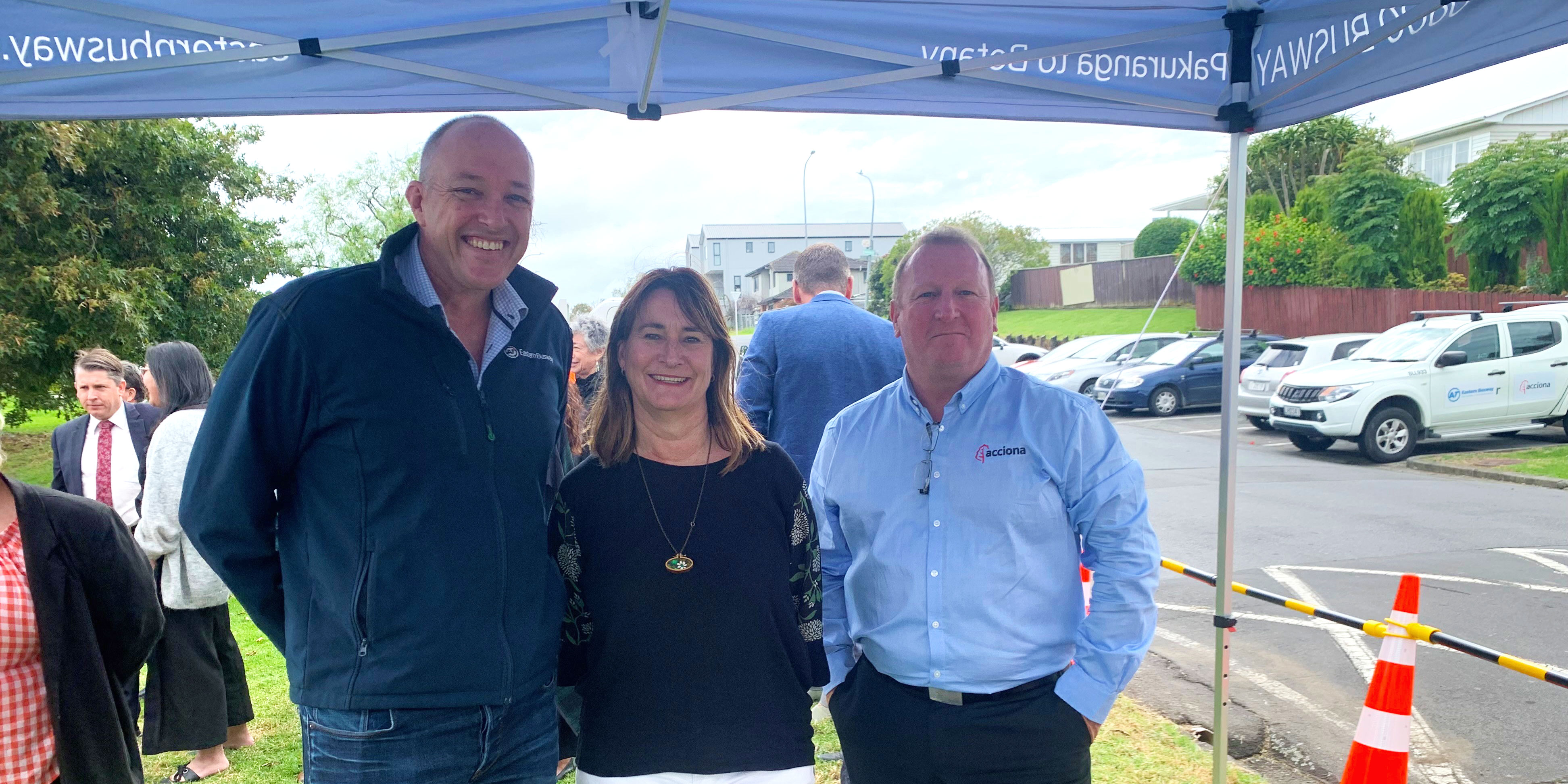 Reaching this stage has required extensive planning and community engagement. Minister of Transport and Minister for Auckland, Michael Wood, and Mayor of Auckland, Wayne Brown, were present to perform the official duties.
The Eastern Busway Alliance, comprising ACCIONA, Fletcher Construction, AECOM, and Jacobs, is delivering the project in partnership with mana whenua, Auckland Transport (AT), Auckland Council, and Waka Kotahi NZ Transport Agency.
Alliance Project Director Matt Zame said, "It was awesome to hear how aligned all parties were in their vision of the project, and how they look forward to the objectives being realised for the people of Auckland."
Please find the full media release from Waka Kotahi NZ Transport Agency below.
First sod turned for Eastern Busway's final stretch - Pakuranga towards Botany
Media Release | Waka Kotahi NZ Transport Agency | 1 April 2023
Today, Minister of Transport / Minister for Auckland Michael Wood joined the Mayor of Auckland Wayne Brown to turn the first sod for stages two, three and four of the Eastern Busway.
This milestone means construction is underway for the significant transport project's final stretch, from Pakuranga towards Botany.
The project is being delivered by the Eastern Busway Alliance of Fletcher, Acciona, AECOM and Jacobs in partnership with mana whenua, Auckland Transport (AT), Auckland Council and Waka Kotahi.
In December 2021, the Panmure to Pakuranga stage was finished, and this next stage – connecting the Pakuranga and Botany town centres – will take about four years to complete.
The project will include new paths for walking and cycling, placemaking, urban renewal initiatives and improvements for general traffic.
Following the success of the Northern Busway on Auckland's North Shore, the Eastern Busway is expected to carry more than 30,000 people per day between the rapidly growing south-eastern suburbs and the rail network in Panmure.
Auckland Transport's interim chief executive Mark Lambert says this project is going to deliver great benefits for the community.
"One example of this is that people will be able to travel between Botany and Britomart by bus and train in less than about 40 minutes, which is 20 minutes faster than the current journey times.
"As part of our commitment to sustainability, this project will encourage the use of walking, cycling and public transport. The buses that use this infrastructure will be electric – creating a transport future for Auckland that is cleaner, quieter and more comfortable for all."
Steve Mutton, Director of Regional Relationships for Waka Kotahi, says that together the Government and Council are committed to promoting a range of attractive transport options, offering certainty, and bringing about change in Auckland.
"The announcement made today to advance the Eastern Busway demonstrates our shared commitment to enhancing the transport network in Auckland and delivering the certainty our largest city requires to prosper."
Dean Kimpton, outgoing project alliance board chair and incoming chief executive of Auckland Transport, says the project is generating hundreds of jobs in the short-term and providing work for thousands of people and dozens of businesses in the supply and construction sector.
"We're proud that this project is creating better future transport options for Aucklanders, while offering growing employment opportunities for under-represented groups. This is helping to create a thriving construction sector and will allow the eastern communities to flourish now and into the future."