Construction is starting on Australia's first wind turbine training tower at Federation University Australia in Ballarat.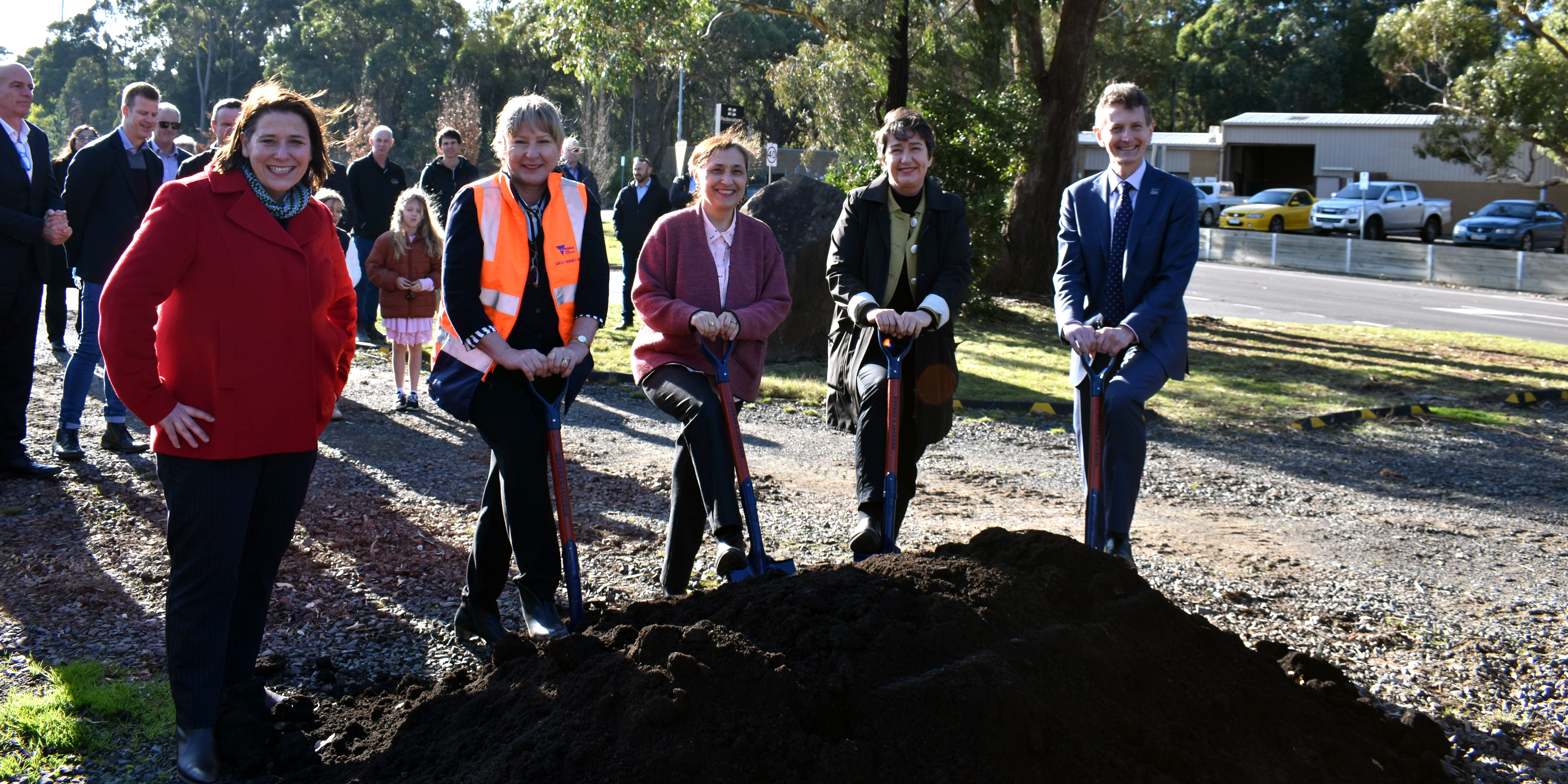 Minister for Higher Education, Skills and Training Gayle Tierney visited the Mt Helen campus today for a sod turning event to mark the start of construction and to launch a new short course for tradespeople to retrain to work in the wind industry.

The tower is the first stage of the Asia Pacific Renewable Energy Training Centre (APRETC) – a partnership between Federation TAFE and the renewable energy industry.

The $1.8 million project is funded by Vestas, ACCIONA, GPG and Tilt Renewables to allow the renewable energy companies to train workers locally in Ballarat, the gateway to Victoria's major windfarm projects in the state's west.

The tower will be built by Ballarat builder SJ Weir and Keppel Prince Engineering. It will feature ladders and safety equipment to give students real-world experience when training to work in the wind industry, or other industries that require working at heights, such as construction and maintenance.

Once completed, Federation TAFE will be the only training provider in Australia able to deliver the Global Wind Organisation (GWO) basic safety training and refresher training courses from a simulated wind turbine tower. The GWO accreditation is required to work on wind turbines in Australia and around the world.

Minister Tierney also launched Australia's first short course for tradespeople to train as wind turbine technicians, which will be delivered by Federation TAFE from 2023.

Federation TAFE has signed an exclusive agreement with the BZEE Network in Germany to deliver the globally recognised post-trade turbine technician training course.

The six-month intensive course allows electricians, mechanical fitters and automotive technicians to gain the skills needed to work in Australia's growing wind energy industry. It includes an internship with wind turbine manufacturers and service organisations, covering electrical, mechanical and hydraulic systems training.

Construction on the new wind turbine training tower is expected to be finished later this year, with stage two of APRETC to get underway in 2022. This includes a classroom, workshop and training equipment to deliver specialised training courses, such as wind turbine maintenance and blade repair.

The centre is part of Federation University's broader plan to become the leading training and research partner for Australia's renewable energy industry.

Federation's Ballarat campus is located at the gateway to wind farm developments across western Victoria, while researchers at our Gippsland campus are working with energy companies in the Latrobe Valley on the transition from coal-fired power to green hydrogen energy.

Quote attributable to Vice-Chancellor and President, Professor Duncan Bentley
"From developing the latest renewable energy technology to training technicians to build and maintain it – we plan to make Federation University the leading training and research partner for Australia's renewable energy industry and this new wind turbine training tower is an important step."

Quote attributable to Pro Vice-Chancellor (VET) and CEO TAFE, Liam Sloan
"The new course we've announced is an Australian first – it means local tradespeople can retrain in six months to work in Australia's growing renewable energy industry."

Quotes attributable to BZEE Network Managing Partner, Uwe Geiling
"The BZEE Network's Turbine Technician Training Course is recognised globally, allowing technicians to work on wind turbines anywhere in the world.

"We're excited to be partnering with Federation to train Australia's next generation of wind turbine technicians."

Quote attributable to Head of Vestas Australia & New Zealand, Peter Cowling
"As the largest installer and maintainer of wind generators, both globally and nationally, Vestas is proud to be the major investor of Federation University's wind turbine training tower and their Asia Pacific Renewable Energy Training Centre."
"Partnerships with tertiary and vocational institutions are very important to Vestas as we do our bit to train the workforce who will transition the power sector to renewables."

Quote attributable to ACCIONA Managing Director, Brett Wickham
"The renewable energy industry in Australia employed over 25,000 workers in 2019 and this figure could rise to 44,000 by 2025. ACCIONA is extremely proud to support APRETC as local training initiatives such as this will go a long way to support industry growth.

"It's exciting to see industry, education and government working closely to bring such a significant project to life."

Quote attributable to GPG Project Director, David Santo Tomás Menocal
"Federation University's new training program and facility will play a critical role in training tradespeople for the thousands of job opportunities that will be created by the transition to renewable energy in Australia."

"We are delighted to contribute to this important initiative, and we look forward to employing graduates of the program at wind farms that we develop in the future."

Quote attributable to Tilt Renewables Executive General Manager, Clayton Delmarter
"Tilt Renewables is proud to be part of this Australian-first training initiative. The Asia Pacific Renewable Energy Training Centre will support our existing scholarship program with Federation University that offers three scholarships a year for ten years to trade-qualified students wishing to enter the wind energy generation industry."

"Being part of the renewable energy transition is also about supporting the training of our workers to develop the skills to grow the industry and to do it safely, right here in Victoria."