Spanish infrastructure giant Acciona said a carbon price needs to be introduced in Australia for the nation to hit net zero goals and harbours concerns over the credibility and authenticity of carbon offset markets.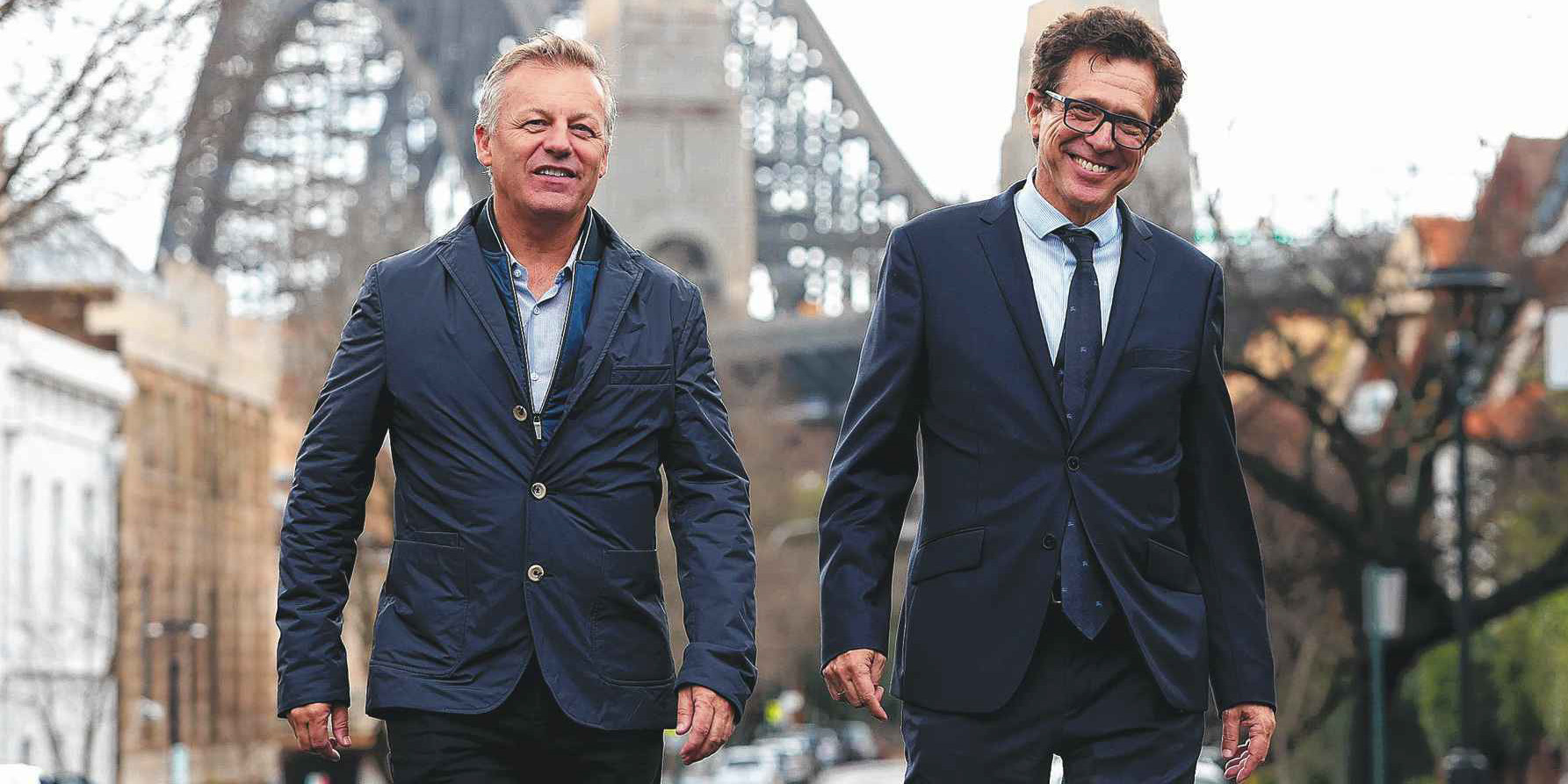 Image: Australian CEO Bede Noonan with Acciona's head of global sustainability, Jose Luis Blasco, in Sydney this week. Picture: Jane Dempster
The infrastructure and renewables player also criticised Australia's state governments for spending hundreds of billions building major projects without a focus on sustainability, saying costs are double what they are in Madrid.
Acciona, which is building a string of projects including Australia's largest wind farm and the runway for western Sydney Airport, said a carbon price was integral for the economy to meet climate change goals including Labor's pledge for a 43 per cent cut by 2030 and net zero by 2050.
"We need to disincentivise the economy based on fossil fuels by cutting subsidies and incentivise carbon pricing and invest those resources into adaptation of infrastructure and building innovation," Acciona's head of global sustainability Jose Luis Blasco told The Australian during a visit to Sydney.
"If you don't adapt today and you don't introduce a mechanism in order to transform the economy today, there is a real debt the next generation will pay for."
Acciona became carbon neutral in 2016 and while a major investor in Australia, it says the country could be doing more to value business decisions that lower pollution across projects.
"We had to get a zero carbon policy, which we've now got," Acciona's Australian chief executive Bede Noonan said in the interview. "And once you have that, then I cannot think of any other way that will appropriately allow the market to make their own rational decisions other than carbon pricing."
Labor plans to tighten the baseline for the safeguard mechanism, its signature climate change policy, which would force the 215 biggest industrial emitters to reduce their carbon footprint more steeply although there are concerns in some quarters that a large chunk of trade exposed businesses may receive special treatment. Others such as Whitehaven Coal are worried it represents a carbon tax "by stealth".
Acciona is also wary of integrity issues connected with booming carbon offset markets. Australia's own $4.5bn carbon offset market faces a review after whistleblower Andrew Macintosh described the scheme as a rort.
"The main weakness of the offsetting is questions over the credibility and the authenticity of these commitments," Mr Blasco said. "We need to avoid continuing to emit and offset with certificates. This is unfair at the end of the day as we will be increasing our GDP and at the same time we need to decrease our emissions and anything that can disturb this equation should be eliminated."
The diversified infrastructure player said Australia could be doing more to cut emissions noting its own experience building an expansion of Madrid's metro system compared with a tunnel project in Australia.
"Our tunnel project in Australia dollar for dollar is about double and our carbon output for capital is about double what it is in Madrid," Mr Noonan said.
Acciona has previously sparred with the NSW government over Sydney's disastrous light rail project which suffered a major budget blowout and multi-year delays.
It was hired on the Sydney Metro West project and worked on the WestConnex toll road tunnels, but said the infrastructure boom could have been handled better by state governments.
"We see enormous opportunities in infrastructure for decarbonisation. But in the current paradigm, we're still seeing basically a traditional approach to procurement of many hundreds of billions of dollars of infrastructure, which in the capital costs is having a massive impact on carbon. And that's not even being considered in anyone's mind. It's not being measured. And in an operating state, it will also have a massive carbon impact," Mr Noonan said.
"Australia has become a first world democratic country with lots and lots of governance layers. When we respond to a piece of government infrastructure here, there's been five years worth of decisions made prior to the contractor getting involved which are bound by planning, by process and by government specifications that don't allow us to innovate."
Acciona, Spain's largest renewables operator, started construction in June on the largest wind farm ever to be built in Australia, worth $2bn, and capable of producing 1026MW of energy, enough to power 700,000 homes each year.
Originally posted via The Australian 14 July 2022
Perry Williams Senior Business Writer
Perry Williams joined The Australian in 2018. Previously he was Asia energy reporter for Bloomberg News and prior to that held senior roles at the Australian Financial Review including resources editor and deputy companies editor. He also brings significant international experience after working as an energy correspondent in the Middle East and reporter covering UK corporates for ratings agency Standard & Poor's in London.