A major milestone has been reached in Australia's largest road infrastructure project, WestConnex, with roadheaders smashing through sandstone to connect two sections of tunnel for the first time.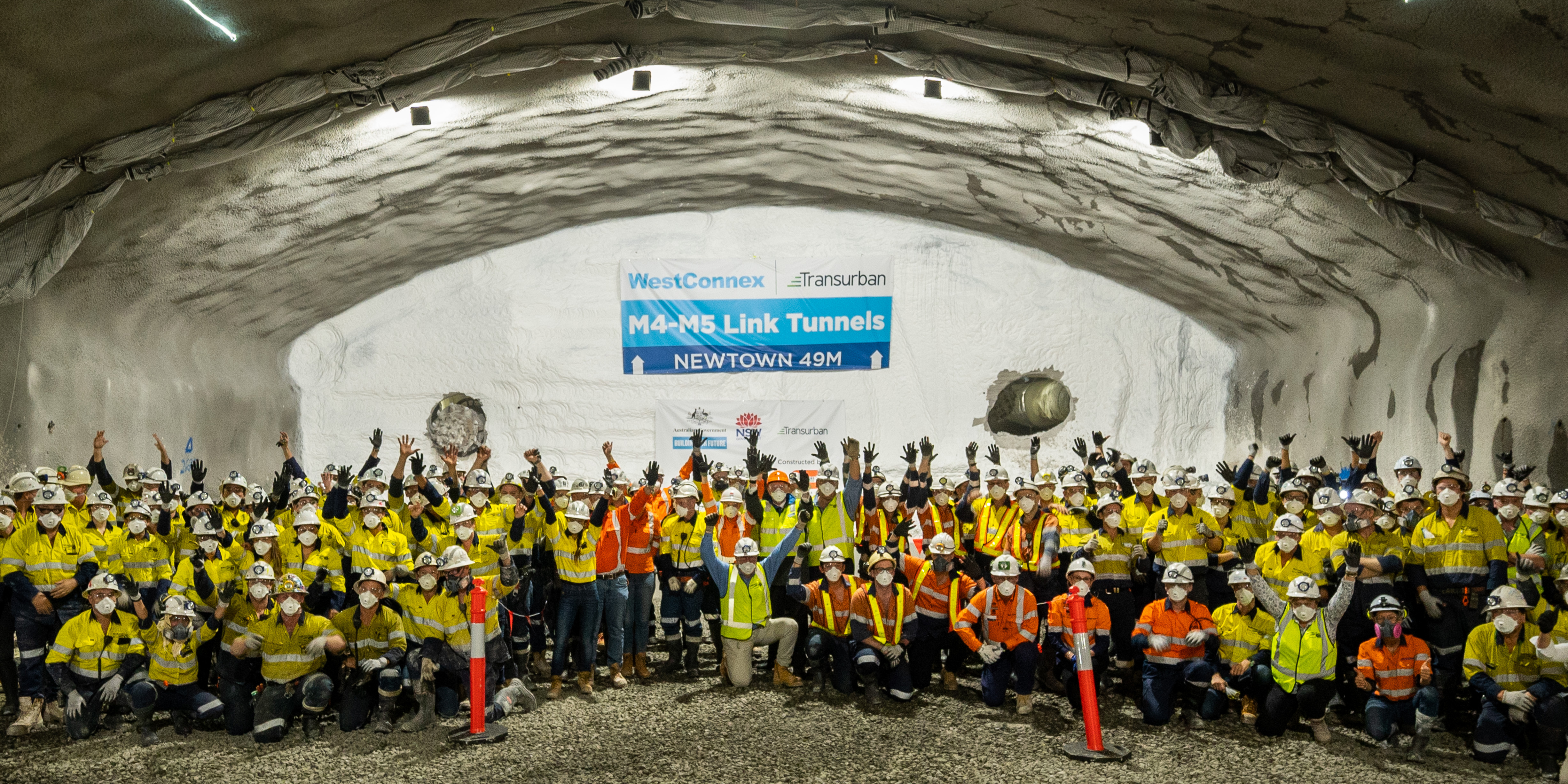 Today's breakthrough connected westbound sections of the mainline tunnels between St Peters Interchange and Annandale, which is about 50 metres below Newtown.
Transport for NSW Acting Deputy Secretary Infrastructure and Place Camilla Drover said tunnelling for the twin 7.5km tunnels between the M4 corridor at Haberfield and the M5/M8 corridor at St Peters is on track to finish this year, with more than 90 per cent of the tunnels and ramps now excavated. 
"We're another step closer to completing this crucial stage of the WestConnex project, which will link the M4 and M8 tunnels, creating an underground bypass of the Sydney CBD," Ms Drover said.
"This is an exciting milestone for the workforce who have been tunnelling on this project for more than two years and have just 2km left to excavate.
"More than 40 per cent of the 8,000 people who have worked on this stage of the WestConnex project have been from Western Sydney, highlighting the significant contribution and expertise the local workforce is providing."
Transport for NSW Chief Operations Officer Howard Collins said Sydney drivers will soon experience the full benefits of WestConnex, with the tunnel connections to create a 33km traffic-light free trip.
"With more than 100,000 trips a day expected on the M4-M5 Link Tunnels, communities above ground in Sydney's Inner West will benefit from reduced traffic and congestion on suburban streets, returning them to local communities," Mr Collins said.
"Drivers using the M4-M5 Link Tunnels will be able to seamlessly move between Haberfield and St Peters in around eight minutes, and a trip between Parramatta and Sydney Airport at Mascot will be slashed by up to 40 minutes.
"There have been 450 contracts signed with NSW subcontractors and suppliers to the value of more than $950 million."
WestConnex CEO Andrew Head said the M4-M5 Link Tunnels will build on the travel time savings motorists are already experiencing using WestConnex.
"With two major stages of the WestConnex motorway network now open, tens of thousands of motorists are already reaping the benefits of the enhanced motorway network which has transformed previously congested corridors, slashed travel times and improved connectivity and mobility for freight," Mr Head said.
"The M4-M5 Link Tunnels will further enhance the network providing vital connections to the rest of the WestConnex network, Rozelle Interchange and Sydney Gateway as well as future projects including the Western Harbour Tunnel, Beaches Link, and M6 Stage 1."
The M4-M5 Link Tunnels will open to traffic in 2023.