We look back on some of ACCIONA's most significant projects throughout 2020, another year that saw us strengthen our commitment to designing a better planet.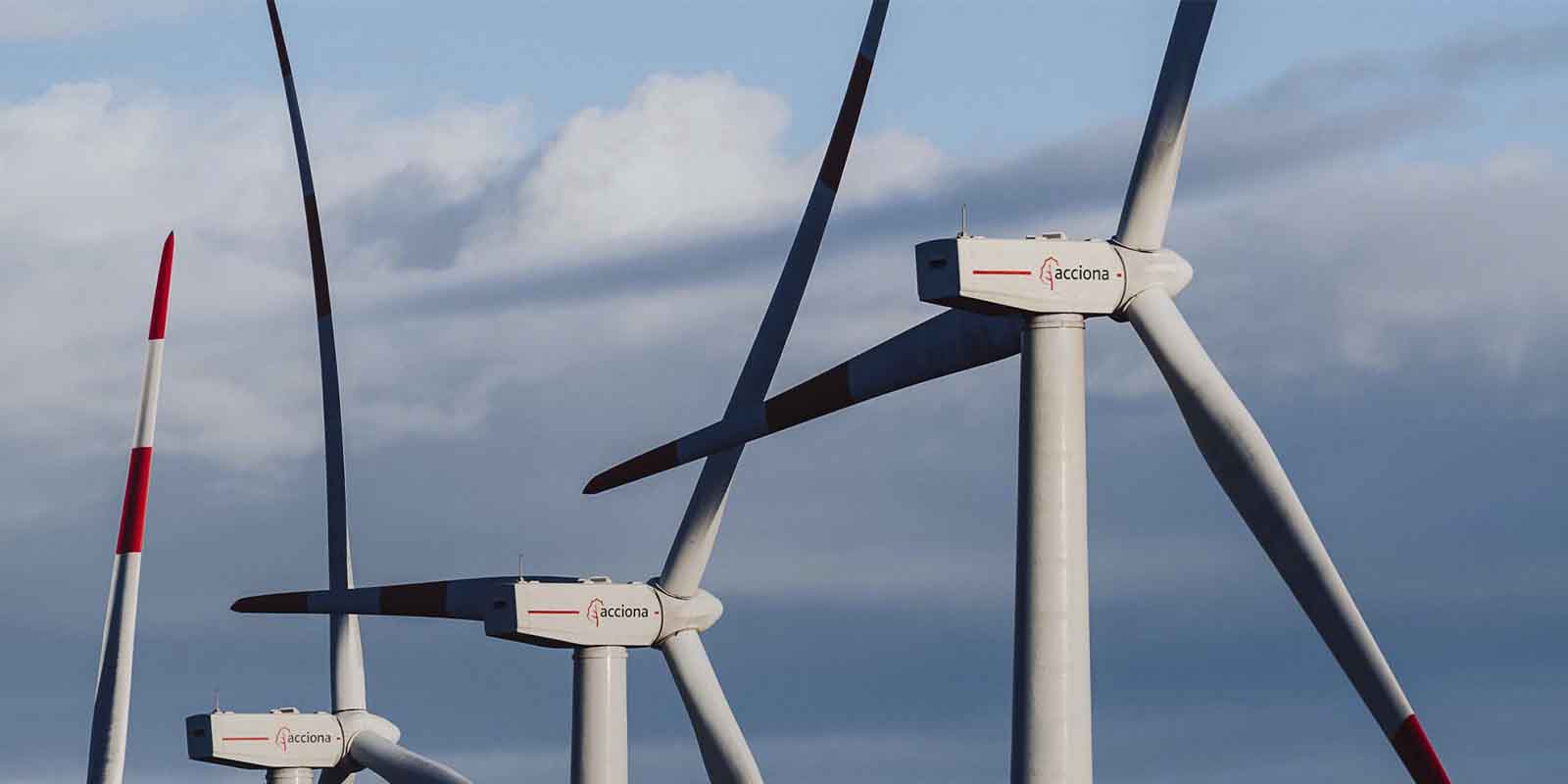 A difficult year is drawing to an end. 2020 has been marked by the COVID-19 pandemic and has been full of health, economic and climate challenges. As a company, we are aware that, now more than ever, it is necessary to work on a business model focused on sustainable development and the needs of society.
For years, ACCIONA has been committed to the fight against climate change, generating 100 % clean, renewable energy, ensuring that millions of people have access to water, and building resilient infrastructure.
Let's take a look at our biggest milestones and what we achieved throughout 2020 in our mission to design a better planet.
JANUARY
ACCIONA named among the world's 100 most sustainable companies in Davos.
In January, ACCIONA was included in the "2020 Global 100 Most Sustainable Corporations" ranking, which is released each year in Davos, Switzerland and analyses around 7,500 companies around the world based on 21 sustainability criteria. We have been included in this ranking for three years in a row.
ACCIONA to build and operate its first desalination plant in Hong Kong
Also, at the beginning of the year, ACCIONA was chosen to build its first desalination plant in Hong Kong. Design and construction began in January and the plant will begin operations in 2023, with an initial water production capacity of 135,000 m³ per day.
FEBRUARY
 ACCIONA named world leader in sustainability by S&P Global and RobecoSAM
In February, ACCIONA was named as the leading electricity company (utility) in the field of sustainability in the Sustainability Yearbook 2020, prepared by S&P Global and RobecoSAM.
MARCH
ACCIONA wins the WEX Global 2020 prize in the "Innovation for Desalination" category thanks to the DREAMER project
Innovation is one of ACCIONA's best assets in finding solutions that add value to our society. In March, our efforts were recognised with the WEX Global 2020 prize in the "Innovation for Desalination" category thanks to the DREAMER project.
ACCIONA to build a 1,026 MW wind farm in Queensland (Australia)
ACCIONA opened the first wind farm in 2020, having been chosen to build the MacIntyre complex in Queensland. With a total capacity of 1,026 MW, this is our largest wind farm in Australia. This project is valued at €1 billion (AU$1.96 billion), which will boost the Queensland government's decarbonisation strategy.
APRIL
ACCIONA joins the European Alliance for a Green Recovery (Green Recovery Alliance)
In April, one of the harshest months of the pandemic, ACCIONA joined the European Alliance for a Green Recovery. ACCIONA has joined more than 180 corporate leaders, European ministers and members of Parliament, trade unionists and civil society leaders, in calling on European Union (EU) governments to prioritise low-carbon investments in their post-Covid-19 economic recovery plans.
ACCIONA will build its fourth desalination plant in Saudi Arabia
In the same month, ACCIONA strengthened its presence in the water treatment business in Saudi Arabia by building its fourth desalination plant in the country. With a capacity of 600,000 m³ per day and the ability to serve a population of three million people, it will be one of the largest reverse osmosis desalination plants in the world.
MAY
The digital twin, another step forward in ACCIONA's commitment to technology
In May, ACCIONA managed to complete the digital twin of one of the largest desalination plants in the Middle East. This is an exact digital reproduction of the project that allows productivity to be analysed, optimised and improved, reducing development times and detecting faults early.
World Economic Forum names ACCIONA's GREENCHAIN® platform as energy innovation breakthrough of the decade
In addition, GREENCHAIN®, ACCIONA's platform that guarantees the renewable origin of the company's energy, has been selected as one of the most innovative solutions of the decade in the energy industry by the World Economic Forum.
ACCIONA's response to the coronavirus crisis
In response to the unprecedented threat to public health, society and business activity caused by the COVID-19 virus pandemic, ACCIONA is taking all the necessary steps to protect the health and safety of its employees, while ensuring the continuity of its businesses and services, some of which are essential to life in the community. ACCIONA is also working together with public institutions and social actors to help combat this pandemic.
JUNE
ACCIONA becomes world's largest shared motorcycle operator
After its deployment in multiple European cities, ACCIONA became the world's largest shared motorcycle operator in June. ACCIONA has increased its network of shared electric motorcycles to 10,000 units, the largest fleet in the world, with a presence in Spain, Italy and Portugal.
ACCIONA will build Hospital del Niño (New Children's Hospital) in Panama
In June, we found out that Panama's Ministry of Health (Minsa) had awarded ACCIONA the contract to build, equip and maintain the Hospital del Niño (New Children's Hospital) in Panama City (Panama). The project, worth US$614.2 million (€560 million), involves building one of the country's main hospital complexes.
JULY
ACCIONA inaugurates the first grid-connected floating photovoltaic plant in Extremadura, Spain
One of the most striking projects of 2020 was the Sierra Brava plant, the first grid-connected floating photovoltaic plant in Spain. The Sierra Brava photovoltaic plant is an innovative project that will allow the study of a range of technical solutions for the installation of solar panels on the surface of lakes or reservoirs.
AUGUST
ACCIONA tops Sustainalytics' ESG Risk Rating
In 2020, ACCIONA was ranked as the most sustainable company in the world in the "multi-utilities" sector by Sustainalytics' ESG Risk Rating.
ACCIONA also secured its place in the FTSE4GOOD sustainability index again—the sustainability stock index created by the London Stock Exchange—which it has been included in without fail since 2011.
SEPTEMBER
ACCIONA relaunches its investment in Chile with construction of a 238 MWp photovoltaic complex
In September, ACCIONA began construction of the Malgarida I and II photovoltaic complex in Chile. The project will be ACCIONA's seventh renewable facility in the country. These photovoltaic projects will require a US$170 million investment and will reach an annual generation of 654 Gwh of clean energy. This amount is equivalent to the electricity demand of 280,000 Chilean homes.
ACCIONA completes acquisition of the main part of Lendlease Engineering's project portfolio
Also in September, ACCIONA completed the acquisition of the main part of the ongoing business in Australia of Lendlease Engineering, a subsidiary of Lendlease, announced at the end of 2019. The acquisition, along with new projects won in recent months, increases ACCIONA's infrastructure backlog in the country to approximately AU$4 billion (€2.47 billion) across a vast range of private and public sector contracts.
OCTOBER
ACCIONA signs contract to take over the concession for the construction and O&M of São Paulo Metro Line 6
In autumn, ACCIONA signed the agreement for the transfer of the concession contract for construction and operation and maintenance of São Paulo Metro Line 6 (Orange line), along with the Brazilian consortium MOVE and the State of São Paulo. The project is valued at €2.3 billion (R$15 billion). Once complete, Line 6 will serve 600,000 passengers per day
ACCIONA presents its new "Desalination Platform", a cutting-edge initiative for desalination R&D+I
ACCIONA also launched the "Desalination Platform" in September. An innovative space to demonstrate new R&D+I developments that lead to increased efficiency and sustainability in desalination processes.
NOVEMBER
ACCIONA becomes the world's greenest power utility company for the sixth consecutive year
As the year was drawing to a close, ACCIONA secured its position as the world's "greenest" power utility company in the "New Energy Top 100 Green Utilities" ranking, for the sixth year in a row.
DECEMBER
ACCIONA starts energisation at its biggest US wind farm, La Chalupa (198 MW)
We end the year by announcing the start of operations at our largest wind farm in the United States, La Chalupa (198 MW), located in Texas. La Chalupa is ACCIONA's tenth wind farm in the US, and takes its wind power capacity above 1,000 MW in the country (1,064 MW). La Chalupa is equipped with 63 Nordex AWP 3150 turbines.