Corporations signing commit to achieve carbon neutrality by 2040, ten years ahead of the Paris Climate Agreement's goal
ACCIONA, carbon neutral since 2016, is helping more than 500 corporations and government entities achieve their decarbonisation goals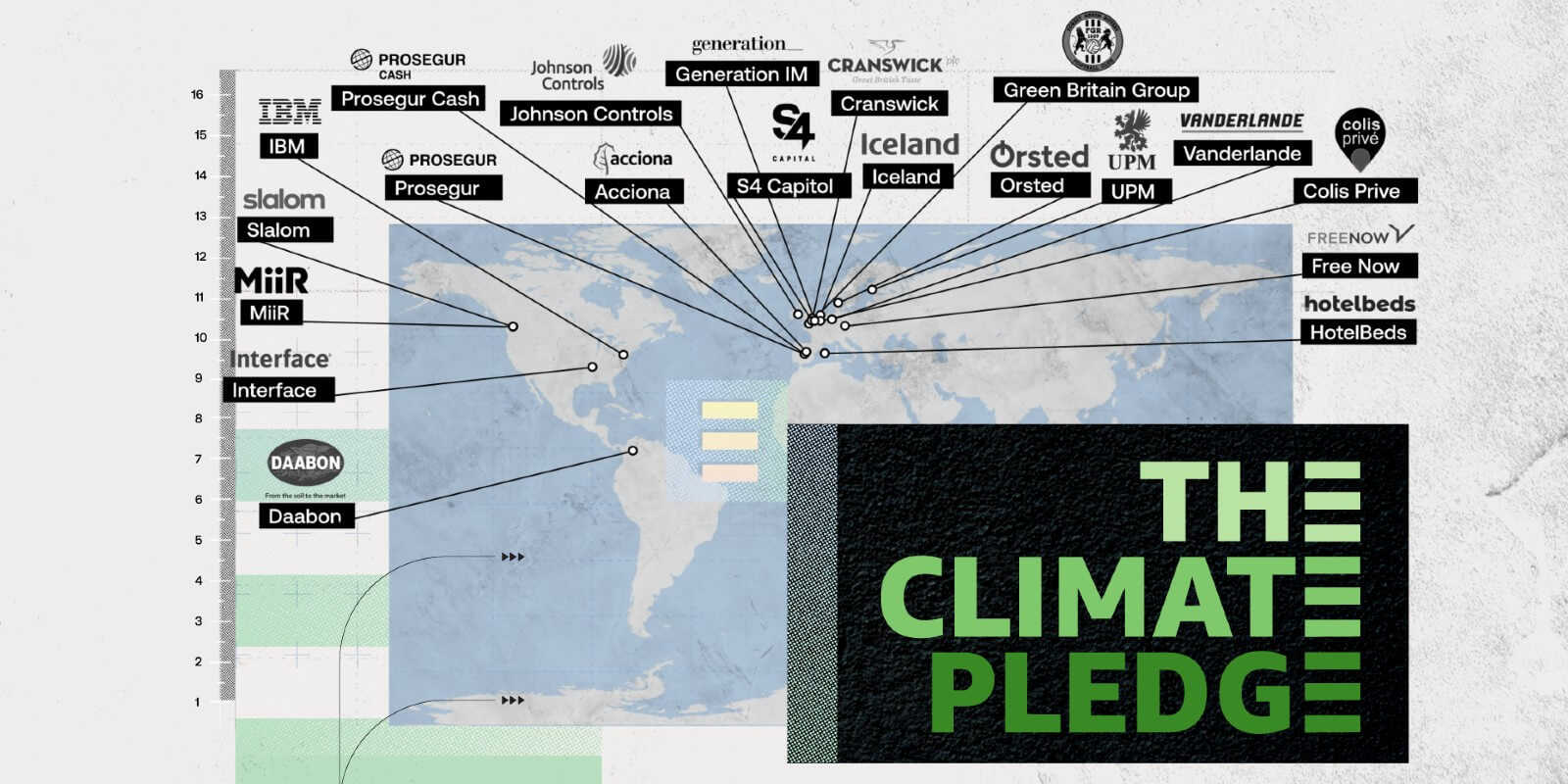 ACCIONA has become the first Spanish energy company to join The Climate Pledge (TCP), an initiative co-founded by Amazon and the non-profit Global Optimism, for businesses that commit to reach net-zero carbon emissions by 2040—a decade earlier than the Paris Climate Agreement's goal.
ACCIONA achieved net-zero carbon emissions in 2016, the first company in the energy and infrastructure sectors to do so. The company is now helping more than 500 corporations and government entities around the globe to reach their decarbonisation goals with the supply of zero-emissions renewable energy and with the development of regenerative infrastructure.
In line with the latest climate science, ACCIONA is also committed to reducing its direct and energy consumption emissions by 60% between 2017 and 2030, as well as a 47% decrease in value chain emissions, consistent with the Paris Climate Agreement's most ambitious goal of limiting global warming to no more than 1.5ºC above pre-industrial levels. ACCIONA's emission reduction targets have been certified by the Science Based Targets initiative (SBTi).
José Manuel Entrecanales, Chairman and CEO of ACCIONA, said: "We urgently need more businesses to commit to regenerative, net-zero carbon growth pathways to avert the threat of catastrophic and irreversible climate change. I hope more companies sign up for The Climate Pledge initiative to push for the critical mass we need to really move the needle on carbon emissions."
Jeff Bezos, Amazon founder and CEO, said: "As the U.S. takes an important step forward in the fight against climate change by officially rejoining the Paris Agreement this week, I am excited to welcome 20 new companies to The Climate Pledge who want to go even faster. Amazon co-founded The Climate Pledge in 2019 to encourage companies to reach the goals of the Paris Agreement 10 years early, and we are seeing incredible momentum behind the pledge with 53 companies from 18 industries across 12 countries already joining. Together, we can use our collective scale to help decarbonise the economy and preserve Earth for future generations."
ACCIONA's leadership in regenerative solutions from renewable energy to resilient, low-carbon infrastructure has been recognized by the world's leading sustainability indices, including the Dow Jones Sustainability Index, the CDP, and the Sustainalytics ESG Risk Rating Index, which named ACCIONA the world's most sustainable company in the "multi-utilities" sector.
A trailblazer in the renewable energy sector, ACCIONA is the largest global utility that operates solely with renewable energy. In 2019, ACCIONA generated nearly 23,000 GWh of clean power, which avoided the emission of nearly 15 million tons of CO₂, equal to approximately twice the total annual emissions of a city the size of Madrid.
Launched in September 2019, 53 organizations have now signed The Climate Pledge, sending an important signal that there will be rapid growth in demand for products and services, such as renewable energy and sustainable infrastructure, which help reduce carbon emissions.
 Signatories to The Climate Pledge agree to:
Measure and report greenhouse gas emissions on a regular basis;


Implement decarbonisation strategies in line with the Paris Agreement through real business changes and innovations, including efficiency improvements, renewable energy, materials reductions, and other carbon emission elimination strategies;
Neutralize any remaining emissions with additional, quantifiable, real, permanent, and socially-beneficial offsets to achieve net-zero annual carbon emissions by 2040 — a decade ahead of the Paris Agreement's goal of 2050
New signatories have the opportunity to share access to technologies, best practices, and innovations in supply chain enhancements. They are also able to create joint action, collaborating with fellow signatories, to address the most critical climate challenges.