From late June to early July, the SPA Glen Huntly team successfully completed a one-week occupation of the Frankston Line, which involved several construction milestones.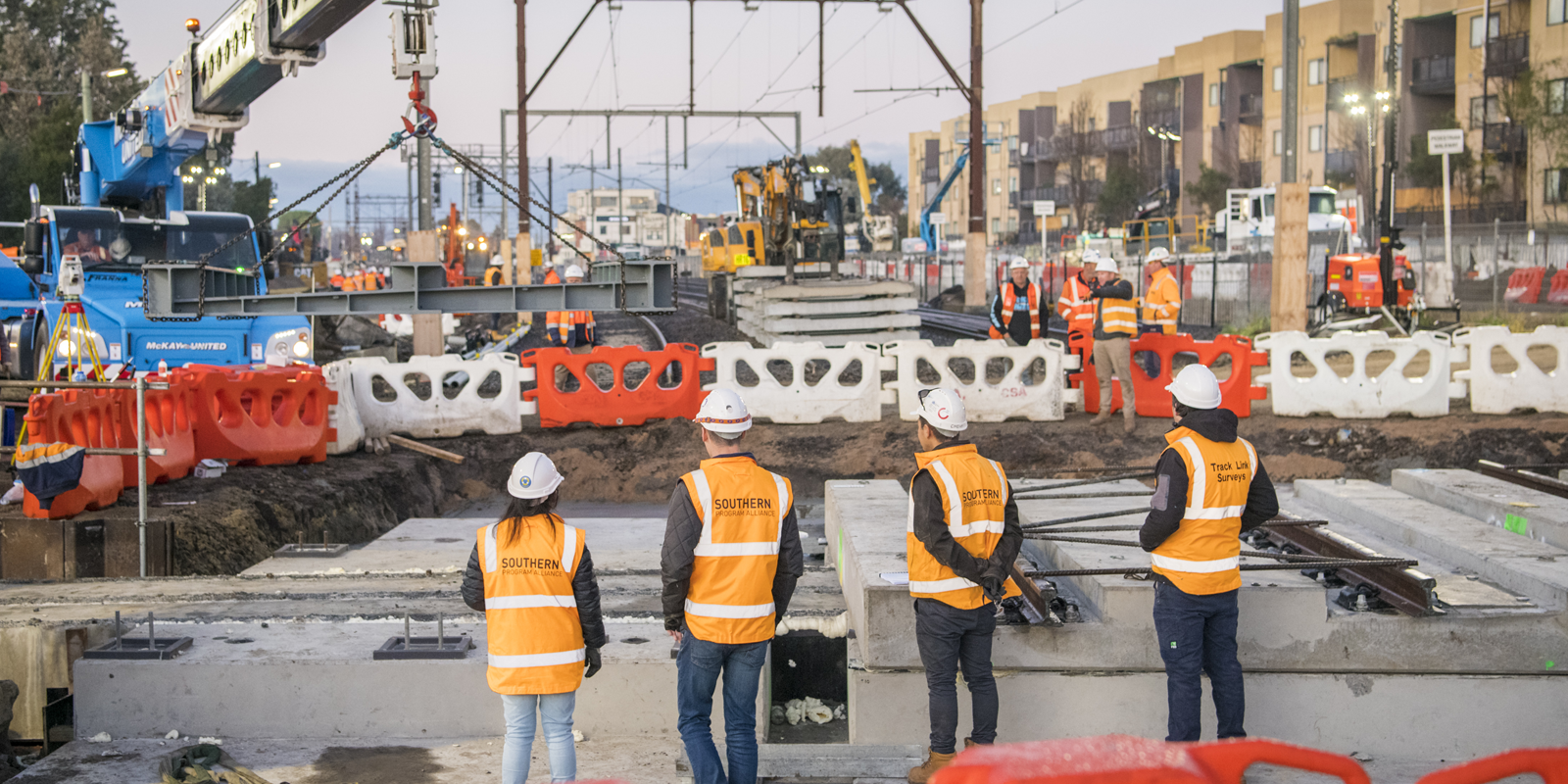 At the start of the occupation, crews removed a section of track, ballast and soil just south of Neerim Road to install several temporary precast slabs and a 20-metre service beam that makes up part of the Neerim Road bridge. The concrete service beam, weighing around 51 tonnes, was delivered during a night shift and installed using two mobile cranes that lifted the beam off the truck underneath the overhead wires and installed across the rail corridor. Following the installation, several additional precast panels with built-in track were also installed above the service beam, allowing the team to rebuild the track before the completion of the occupation.
The occupation also kicked off the closure of the down-track through Glen Huntly and included partial demolition of the smaller Platform 3 station building and platform. In addition to the partial demolition, excavators were used to drive temporary sheet piles along the platform, allowing crews to continue with hardstand construction for CFA piling.
As part of the occupation, 15 palm trees along Royal Avenue were carefully removed using a special circular cutter to cut around the root balls of the palms and then lifted out of the ground by crane. Each tree root ball was covered with hessian material before being loaded onto trucks and taken to a nursery until brought back and replanted in the Glen Huntly area.
Other occupation activities included further hardstand construction, soil sampling, ULX and signalling works, installation of overhead footings, and service investigation works around Caulfield Station.
During the occupation, the SPA comms team ran several trader initiatives to support local traders, including daily deals for the workforce.