ACCIONA Australia's Engineering and Design Division (CWIEN) has engaged Australian Spatial Analytics (ASA) to produce the As-Builts of the first design package that will be commissioned as part of the MacIntyre Wind Farm project, the Powerlink Switching Station Civil Works package.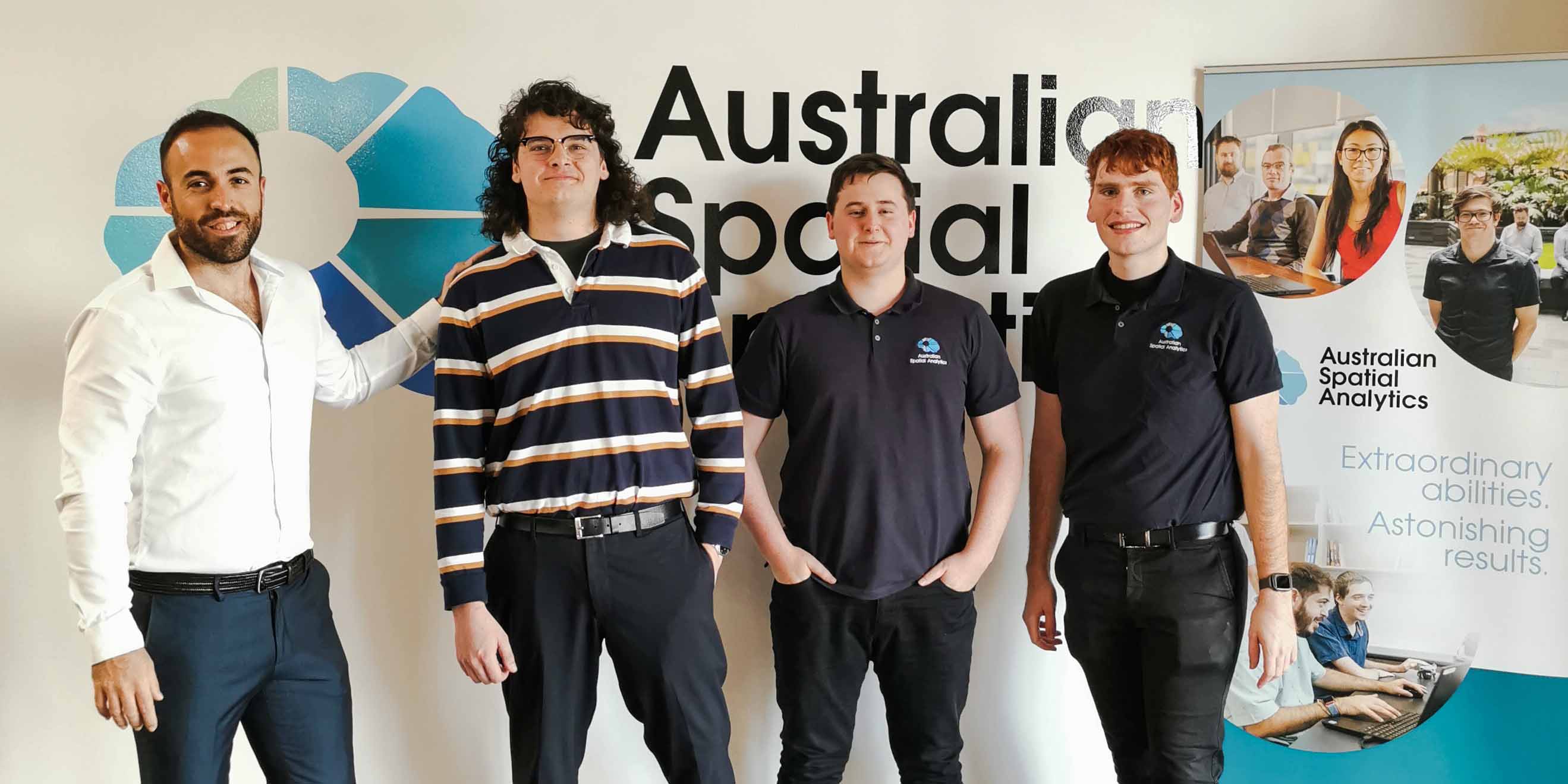 From left: Diego Montiel Iglesias (CWIEN Project Manager in Queensland) with Sam Anderson, Keeton Williamson Smith and Anthony Porter from ASA.
ASA train and employ remarkable young data analysts with autism who bring their exceptional abilities to the field of data analytics. (Young people with autism can be up to 40% faster at tasks requiring visual problem solving and pattern detection skills.) Specialising in spatial analytics, their team is simply faster and more precise at data processing. In fact, the majority of staff at ASA have been assessed as being in the top 3% of the population in areas such as spatial problem solving and pattern recognition, thoroughness and attention to detail.
Following some excellent references from Aimee Najdovski (Alliance General Manager | Murray Basin Rail Project) and Pablo Guardiola (Head of CWIEN), after ASA worked with CWIEN on Murray Basin, CWIEN's Project Manager in Queensland, Diego Montiel Iglesias, approached Sam Anderson, ASA Lead Data Analyst, to plan the first MacIntyre design package.
"It was remarkable working closely with Sam to kick off this project," said Diego. "His background in data analysis enabled him to interpret the engineering drawings and apply the required updates because of the on-site modifications. I was taken aback by his capacity to analyse, deeply focus on the task, and operate efficiently."
"Knowing how fast-paced our industry is, having ASA on board has helped us maintain delivery standards in terms of quality and productivity while we continue to upskill ASA employees in one of the leading industries in society."
Ruben Sanchez also helped Sam embrace the technicalities of ACCIONA's As-Builts.
"When Diego explained the project to me, I was very excited," said Ruben. "As-Builts are not an easy task. He introduced me to Sam, and I knew we were on the same page from the first moment."
"As a Design Engineer Coordinator, I've been in charge of producing thousands of As-Built drawings on many different projects. This experience helped me guide Sam to deliver the first package of drawings smoothly."
Ruben maintained constant communication with Sam. "We did a trial with some drawings, and the rest of the drawings were completed perfectly after adjusting a few parameters."
"Overall, working side-by-side with Sam has been a wonderful experience."
For his part, Sam said the pilot for ACCIONA was set up with great support from Diego and Ruben. "Their guidance not only helps me work for ACCIONA in the future, but it also further improves other processes of ASA's digital engineering contracts.
"Overall, the experience has been terrific, and I'm excited to do and learn more on future projects with ACCIONA."
For more information about Australian Spatial Analytics click here.