A large renewable energy facility
CLEAN, NON-POLLUTING ENERGY
Ensure access to affordable, reliable, sustainable and modern energy for all
1 in 8 people still do not have access to electricity. In order to ensure access to affordable, reliable, sustainable and modern energy for all, it is necessary to increase the use of renewable energy from 25 % today to 38 % in 2025.
ACCIONA is positioning itself as a key player in addressing the growth in energy demand while curbing the progress of global warming and promoting the transition to a decarbonized energy model.
CLIMATE ACTION
Take urgent action to combat climate change and its impacts
The generation and use of energy is responsible for 74 % of total greenhouse gas emissions in the world. This activity is the largest contributor to global warming. Investment in renewable energy, energy efficiency and other low carbon technologies will continue to be essential to meet the new needs of humanity and to minimise their negative impact on the environment.
ACCIONA considers the fight against climate change and its related effects to be a strategic priority. The Company is working to mitigate greenhouse gas emissions in order to contribute to the progress of society and respond to the main challenges of sustainable development in the areas of infrastructure, water and energy, leading the transition to a low-carbon economy.
A 1,026-MW wind power complex in Queensland (Australia), planned by 2024
With a total investment of AU$1.96 billion, the 1,026MW MacIntyre Wind Farm Precinct will be ACCIONA's biggest renewable energy facility and one of the largest onshore wind farms in the world. Developed in partnership with CleanCo, the Queensland Government's newest renewable energy generator, the wind farm is expected to be operational in 2024.
The MacIntyre Wind Farm will be constructed on land predominately used for sheep farming.  Current farming practices will continue during the construction and operations phases of the wind farm. The site has been selected due to its exposure to consistent winds across this part of the country and provides a suitable resource for the development of a wind farm.
By greening Queensland's electricity mix, the MacIntyre wind complex will help the state meet its decarbonisation commitments and climate change mitigation strategies. The scale of the MacIntyre project makes it one of the largest onshore wind farms in the world today.
GENERAL INFORMATION
Location: South-West of Warwick, Queensland, Australia
Capacity: 1,026 MW
Wind turbine: Nordex Delta 4000-N163/5.7
Completion date: 2024
Owner: ACCIONA (923.4 MW) and CleanCo (102.6 MW)
Project configuration: 180x5.7 MW turbines
Tip Height: up to 285 metres
KEY POINTS
Total investment of AU$1.96 billion (€1 billion)
Boosting Queensland government's decarbonisation strategy
Scheduled to begin construction in 2021 and become fully operational in 2024
Result in the establishment of a Community Enhancement Program to strategically deliver added value to the local regional over the life cycle of the project
Provide significant economic activity across the Goondiwindi, Southern Downs and Toowoomba Regional Council areas
Local spend during construction is expected to exceed AU$500 million
Key figures
1,026
megawatts (MW) of capacity
700,000
households supplied
180
latest technology wind turbines
3
millions of tons of CO2 avoided
265
million € of investment in local supplies
Our opportunitues
There are many roles that will be available through all stages of the project – from the planning, through to construction and operations phases.
Our employment section is the best place to look for specific vacancies as they become available. If you don't see a suitable vacancy to apply at this time, we encourage you to upload your CV.
ACCIONA is committed to supporting local industry participation and is encouraging local suppliers and contractors that are interested in conducting business for the project to register through the ICN Gateway – MacIntyre Wind Farm Project page.
If you would like to register your interest directly with ACCIONA's Procurement Team, please send your details and qualification information to procurement.aeag@acciona.com.
Please include MacIntyre Wind Farm in the email title.
OUR COMMUNITY ENGAGEMENT INITIATIVES
ACCIONA will build its largest wind farm in Australia, the MacIntyre complex in Queensland, with a total capacity of 1,026MW.
COMMUNITY ENGAGEMENT COMMITTEE (CEC) 
ACCIONA develops a sustainable business model based on generating shared value and trust with a long-term commitment to its stakeholders.
Continuous communication and dialogue serve as the foundation for ACCIONA's relationship with our stakeholders, and one such way we look to promote ongoing communication is through the establishment of project Community Engagement Committees.
The MacIntyre CEC provides a forum for open dialogue between the company and representatives of the local community; and stakeholder groups on issues and opportunities directly relating to the wind farm project.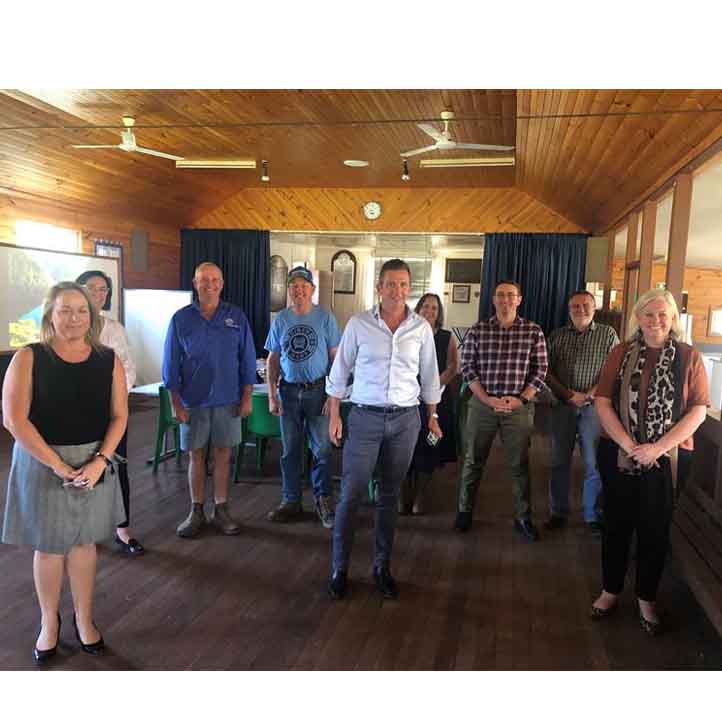 If you would like to raise any matters with a CEC member, please contact one of the member below: