Keri Keri Renewable Energy Project
Located within the South-West Renewable Energy Zone (REZ) in NSW, the Keri Keri Renewable Energy Project is a proposed project of up to 1GW of wind, with option to include Solar PV and Battery Storage in future. The project is within the Murray River Shire LGA and sits across 18,000 hectares of pastoral land.
GENERAL INFORMATION
Project Configuration: u

p to 176 wind turbine generators

 based on 5.7MW machine

 

Location:

Murray River Shire, NSW. The project is approximately 80km west of Hay

Capacity: up to 1GW,

with potential for 

up to 400MW solar PV and Battery Energy Storage System (BESS)

 
Energy Production:

wind portion 

equivalent

 

to powering up to 700,000 households

, solar portion equivalent to powering up to 200,000 households

Construction Commencement

: a

nticipated commencement of construction in late 2024

Project Value: u

p to $1.8bn investment for the wind farm, and additional $500m for solar PV and BESS


KEY FEATURES
The land is situated in a remote area characterised by very large pastoral landholdings, and the current project boundary encompasses more than 18,000 ha of land. The site is very flat and has good access to transport infrastructure.  The proposed wind farm will be constructed on land predominately used for merino sheep farming.



CURRENT STATUS
ACCIONA Energia intends to lodge a Request for Secretary's Environmental Assessment Requirements (SEARS) to develop a wind facility (and potential solar facility) to the NSW Department of Planning, Industry and Environment under the Environmental Planning and Assessment Act 1979 in 2022. 
Site surveys are currently underway to understand the environmental conditions within the area and to inform planning studies. This will also help inform the wind farm design layout, and to allow community consultation in due course. 
Key Figures
1 GW
MEGAWATTS (MW) WIND CAPACITY
176
WIND TURBINES OF 5.7 MW RATED CAPACITY EACH
RELEVANT DOCUMENTATION
LATEST PROJECT NEWS
COMMUNITY BENEFITS
The Keri Keri Wind Farm will bring significant economic activity with a positive effect on the Murray River Council area
Up to 400 jobs during construction and up to 12 full-time roles once the wind farm becomes operational

Providing a diversified income for wind farm host landowners

Employment and procurement opportunities for local residents and businesses

Establishment of a community benefits program which will assist community organisations, community groups and local schools with financial grants to support community events, projects and activities

A Scholarship Program open to local students to provide support to further their education at University or TAFE
LOCATION
The proposed Keri Keri Renewable Energy Project is located due south of the Willowvale Rest Area, abutting the Sturt Highway and Keri Keri Road. The planned Project EnergyConnect NSW/SA Interconnector is proposed to cross the southern portion of the 18,000ha site.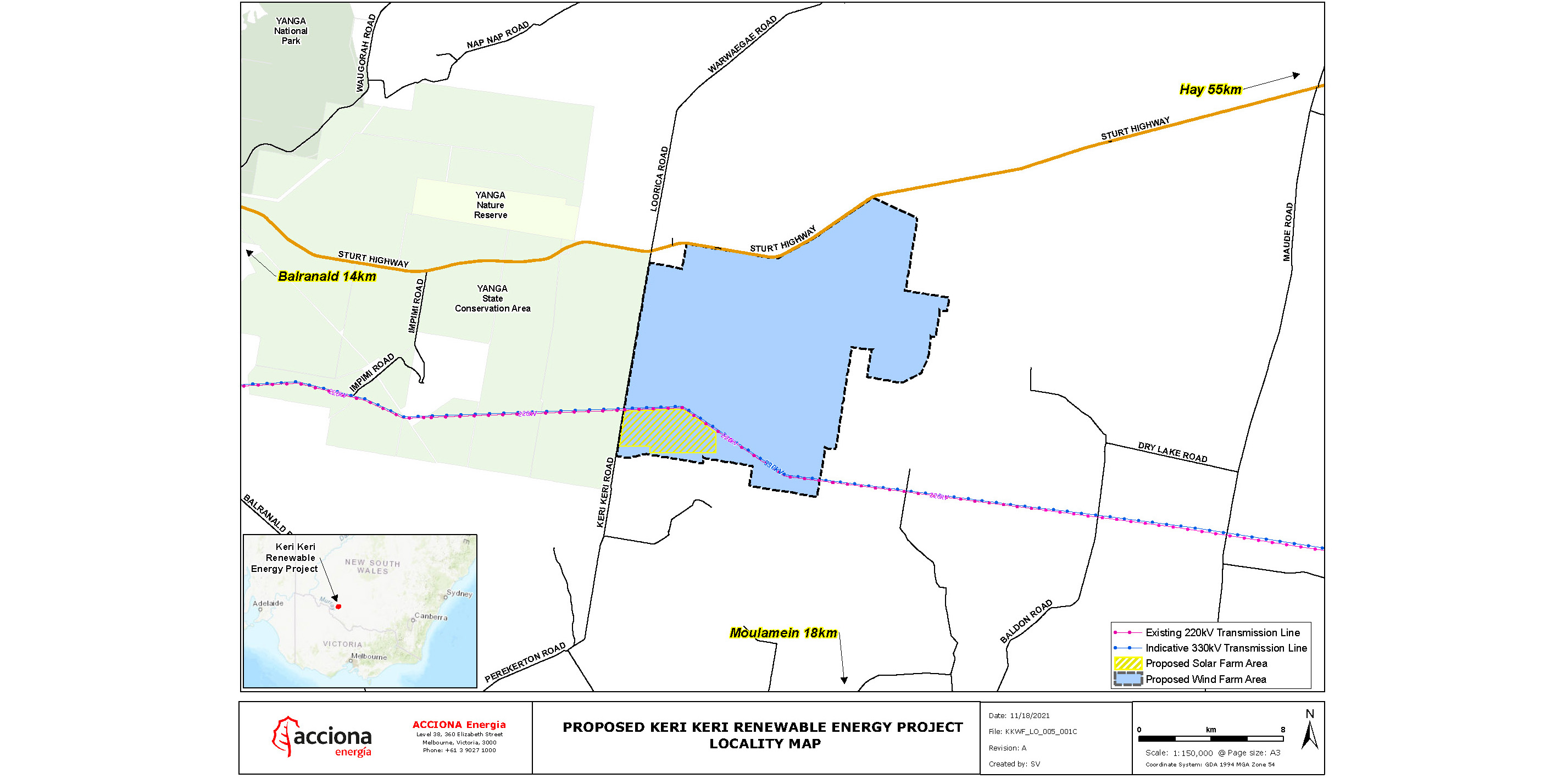 Keri Keri Project Map